A Major Player in the Fitness Equipment Industry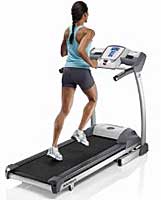 Nautilus has been a major player in the fitness equipment industry for a number of years.  There biggest seller is the much hyped BowFlex Treadclimber and MaxTrainer.  A sort of hybrid treadmill and stair stepper that was promoted mostly through infomercials.
They also produce Schwinn treadmills and elliptical trainers. I've been a big fan of Schwinn ellipticals for a number of years.
---
See Our Best Buy Recommendations and Reviews
---
They've recently released two treadmills under the Nautilus name,and I am curious why they do not have more models in a wider price range.   So now Nautilus offers two Nautilus treadmills and two Schwinn treadmills.  They are all around the same price and it appears that they are similar in engineering and design.  I also do not understand the competing brand logic.
So let's talk about the two Nautilus treadmills.  There is the Nautilus T614 and the Nautilus T616.  Depending on where you are buying from they range in price from $800 – $999.  Note:
Nautilus Treadmill Pros
The Nautilus models are extremely heavy,providing a very solid feel.  It also allows these treadmills to handle heavier individuals in comparison to comparably priced treadmills.
The motors in both treadmills are adequate to handle both walkers and joggers.  You probably could get by running on the T616. The T614 has a 2.75 continuous duty HP motor,while the T616 has a sizable 3.2 HP motor.
The Nautilus T614 comes with an average sized 55″ treadbelt, while the T516 has a slightly larger 58″ belt.  The decks on both do a decent job of shock absorption.
Both models come with a wide range of installed workout programs.  You get 19 on the T614 and 26 on the T616.  I personally like to change up my workout routine to break the monotony of running in place.
Both machines include heart rate control with four Polar heart rate programs. A telemetry belt comes standard for wireless heart rate control.  Normally at this price you would pay extra for the belt option, if it was available. Using your heart rate to define your level of exertion is a very efficient way to maximize your workout.
You have incline and speed controls on the handle bars so you don't have to break your stride and reach to the console to make changes.
Assembly is fairly easy.  You basically have to raise the console, screw in place and add the handlebars.  The real bitch is moving the machine.  Note: If you are putting it in a room that has a small entrance, move the treadmill first and assemble later.   You'll need to tilt the treadmill.  Also you will need someone to help you move the treadmill indoors once it is delivered.
The warranty on the motor and other parts is about average, 10 years motor, 2 year electronics and 2 years other parts and 1 year labor.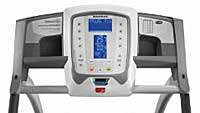 The console and display are not really noteworthy.  The design looks a bit cheap.  At least the LCD display is backlit, so you can see it in poor lighting. There is a fan built into the console.  The output is not going to blow you away, but at the high speed it is not bad.
There are speakers and MP3 input.  That has become a standard feature on most treadmill priced over $599.  Not everyone will use them, but it is convenient having the sound pointed towards your  head.
Interactivity
Most recently Nautilus has added Nautilus Connect, which allows you to download your stats to an online account and track your results and your progress. However, it is not done through Wi-Fi, but with a USB drive.
Other brands, like Horizon, NordicTrack and ProForm have a more robust ability for interaction between your treadmill and the Internet. Horizon has ViaFit, which downloads your stats to your ViaFit account. You can also set goals and track your progress. NordicTrack and ProForm offer iFit Live for an additional cost. iFit Live allows you to create custom workout programs that are progressive and include audio coaching. Your workout stats are downloaded to your iFit.com account where you can also track your progress. In addition, you can simulate running in a virtual world of famous landscapes like National Parks. iFit Live simulates the terrain with the use of the incline feature.
Our Review – Nautilus Treadmills
Overall Nautilus treadmills offer a reasonable value. Is it the best value in their price range. Not really. There are other brands that have a better reputation for durability and have better features. The bottom line – Nautilus treadmills do not excite me!