The Best of Horizon and Vision Machines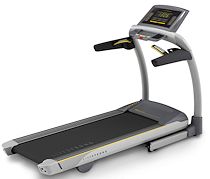 It is unfortunate that the LiveStrong brand has been recently been tarnished by the Lance Armstrong scandal. Having visited the Johnson Fitness North Amercian headquarters outside of Madison,WI,which manufacturers LiveStrong Treadmills, I was impressed with the operation. Johnson also builds Horizon, Vision Fitness and the commercial Matrix fitness equipment.
The LiveStrong brand is positioned between Horizon and Vision Fitness. Horizon is geared towards the mass market and competes with ProForm. Vision Fitness is higher end and is sold in fitness specialty stores. LiveStrong treadmills are sort of a hybrid of the two, and incorporates the best features and engineering.
---
See Our "Best Buy" Recommendations
---
As it was explained to me by Patty Parrott, a Senior VP for Johnson, the goal with LiveStrong treadmills was to build treadmills that are equal or better than the competition in their price range.
Buy a Treadmill and Fight Cancer!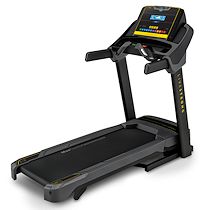 There is an interesting twist to the LiveStrong treadmills.  First, they are endorsed by Lance Armstrong, which really means nothing to me.  However, with every purchase Johnson Fitness contributes to the LiveStrong cancer foundation.  Johnson Fitness is committed to donating at least $4 million within 5 years.  So when you purchase a treadmill you are not only a LiveStrong customer, but also a philanthropist.
And that is a good thing, but the most important concern is buying a treadmill that assist you in reaching your fitness goals. That means you want a treadmill that is durable and provides the features that will motivate you to burn calories and get into shape.  According to Ms. Parrott;
"Since we were licensing the LiveStrong Fitness brand name it was important to put our best foot forward in terms of quality. We used frames and components that we have had the best success with.  So if you look at the frames we used, they are ones  we've used in the past, and they are the strongest and the best.  If you look at the LS9.9T treadmill (now the LS10.0T), you can't move it.  It is very solid and stable. "
The LS13.0T and the LSPRO1 come with 60″ treadbelts and hefty motors, so they are also built to handle heavier users and taller individuals.
Additional LiveStrong Treadmill Features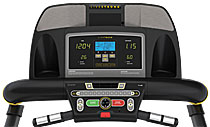 Speakers and MP3/iPod Input — All models except the PRO series are equipped with speakers and the ability to plug in your MP3 or iPod player.
Livetrack Interactive™ Technology (Excluding LS8.0) — Staying motivated when you walk or run in place can be a challenge. Studies have found that individuals that track their progress when exercising tend to do better reaching their fitness goals. With the use of a USB you can record you workouts on your treadmill and download them on your own personal account on LiveStrong.com. You can track your progress online, manage your diet and calorie input and get free workout programs that can be downloaded on your treadmill. In addition, there is a massive amount of information regarding health and fitness.
Fitness Journal — All the treadmills have fitness journaling software, called LiveTrack, where you can log and journal you workouts overtime. You can monitor your progress over the past day, week or month.
Heavy Unit Weight — All four models are above average as far as their weight.  This is an important factor in the stability of the machines.  For example, the LS10.0T weighs in at a hefty 240 lbs. That is one of the heaviest treadmills in that price range.
Warranties — The warranties tend to match up very well against the competition.  All models have a lifetime warranty on the motor, which is fairly standard.  What is worth noting is the LS13.0T and the LSPRO1, which come with a generous 5-year parts and 2-year labor warranty.  Warranties can speak volumes as to the durability of the machines.
Our Review — LiveStrong Fitness Treadmills
I stopped by Dick's Sporting the other day and starting talking to a salesperson in the fitness equipment department that actually knew what he was talking about. Now Dick's sells both LiveStrong and Sole treadmills. I asked how the sales compared. He said that Sole had always dominated sales, but LiveStrong, although being relatively new, is catching up.
However, this is what really got my attention. He mentioned that though Sole has always had a decent service record, he has not had one service issue with the LiveStrong treadmills.
I believe Johnson Fitness has a winner with LiveStrong treadmills.  The charitable angle makes for a good story, and distinguishes these treadmills from others.  But most important, the models appear to match up well against the competition.  In testing the machines I felt they had a very solid and stable feel, and except for the LS7.9T all the models ran very quietly. A sign of good engineering and quality components.
In the past, when you went to Dick's Sporting you primarily had Sole and Horizon treadmills.  I never felt Horizon was up to the Sole standards, and in talking to the salespeople I got the same impression from them.  I feel the LiveStrong treadmills are going to give Sole some fierce competition.
Are the LiveStrong treadmills as durable as brands like Sole or Pacemaster? They appear to be and the feedback I got from the salesperson at Dick's is that the are very low maintenance.