Who Builds FreeMotion Treadmills?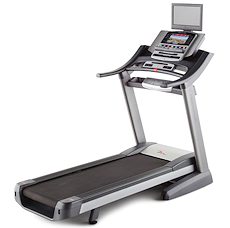 I've been getting a number of questions about FreeMotion treadmills. People are asking about the quality and reliability. FreeMotion is part of the family of treadmill brands by Icon Fitness. They have numerous brands,the most recognizable are ProForm and NordicTrack. The also build budget models like Image,Weslo and Gold's Gym. Why do they have so many brands? Typically the various brands are available to only certain merchants. For example, you can only get NordicTrack at Sears or online. Weslo is sold through WalMart.
---
You will find that the treadmills offered through ProForm and Nordictrack are very similar to the residential FreeMotion models. In fact, in some cases you can get the exact same treadmill. All three brands use the same components and they are assembled on the same assembly lines. A perfect example is the FreeMotion 790 Treadmill and the NordicTrack Commercial 2450 Treadmill. They have the same motor, 10″ color touch screen Android browser, 15″ high definition TV, warranty 20″ x 60″, etc. Both are iFit Live capable.
How Do FreeMotion Treadmills Rate?
I have been out to the Icon Corporate headquartersa couple of times to review the NordicTrack and ProForm models. I will say that Icon Fitness offers some of the most innovative running machines in the industry. For example…
iFit Live – iFit Live allows you treadmill to communicate with the Internet and provides an interactive and motivational experience. With iFit Live you can:
Create personalize workout programs based on your fitness goals. The programs are progressive and last for several weeks. You progress is recorded and downloaded onto your personal iFit.com account.
Run the world through Google Maps. You can track routes on Google Maps and your treadmill will simulate the terrain with the used on the incline. In fact, with a model like the FreeMotion 790 Interactive the treadmill not only inclines but declines. With the higher end models you can view your progress on the Android browser. With the lesser priced models you can use a laptop, smartphone or tablet to view Google Maps and your progress.
As mentioned, the NordicTrack, ProForm and FreeMotion treadmills priced over $1,200 typically come with an Android browser that lets you get the full experience of iFit Live and you can access the Internet through the display.
Fully Loaded Treadmills
In addition to be iFit Live capable, you will find that the higher priced Icon Fitness treadmills are loaded with features. A perfect example if the FreeMotion 2500 GS.
15″ HDTV
10″ Full-Color Touchscreen
iFit Enabled
 38 Workout Apps
4.25 CHP Motor
15% Incline and -3% Decline
22×60″ Deck
Folding Frame
How Durable are FreeMotion Treadmills?
Over the last 8 years Icon has gone to great lengths to improve the quality and durability of their machines, and that is reflected in their warranties. Their treadmills that sell for $1,200 or more typically come with a lifetime motor, 5 year parts and 2 year labor coverage. They build some of the most durable machines for under $1,000, but above that you get competition from brands like Sole and Smooth. However, these brands cannot come close to matching the technology found on Icon Fitness products. I would say for your typical treadmill user the FreeMotion, NordicTrack and ProForm treadmills are more than adequate for your needs.
Final Thoughts
Whether you are buying a ProForm, NordicTrack or FreeMotion, you generally cannot go wrong. They may not be the most durable machine on the market, but they are very durable. However, they are the most innovative machines when it comes to motivational technology and unique features that enhance your workout.