Avoid the Health Hazards of Sitting!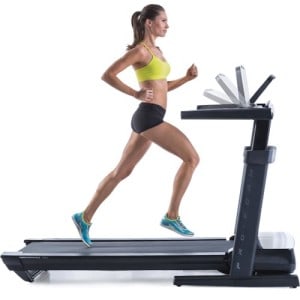 Treadmill desks are all the rage these days in the fitness industry.  People are waking up to the fact that sitting in the same position for hours on end is both unhealthy and unnecessary.  The ProForm Thinline Pro Desk Treadmill has a larger motor than the basic Thinline Desk while offering the same health advantages.
A number of articles have been written on the topic.   Research from the Toronto Rehabilitation Institute explains that prolonged sitting can lead to an increased risk of heart disease, diabetes, cancer, and even death.  The  Washington Post listed several hazards of extended sitting including muscle degeneration, colon cancer, heart disease, poor leg circulation, reduced brain function and an over productive pancreas.
It looks like treadmill desks are a great idea!  This particular model has a larger than normal deck surface and would be able to give you a great sweat-inducing workout if you are ready to flip up the desk and get in some serious exercise.  The console area has a smart design that functions well as either a large work space, or as a flip up display.
Read more on the topic here – Could Working at a Treadmill Desk Make You Smarter?
The Pros of the ProForm Thinline Pro Desk Treadmill
If this is such a booming new trend, it makes sense for ProForm to deliver what the people want!  This particular model is unique in that it has a functional desk that sits on top of a real treadmill.  When you are not working (and walking slowly), you can switch the treadmill into a running machine for a great workout.
Most other treadmill desks, have a table surface over top of a cheap treadmill deck with a small motor, limited space, and a limited warranty.  The ProForm Thinline Pro doesn't skimp on these features like others.  Here's what you get…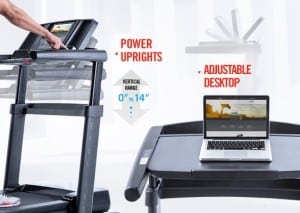 22"x60" Walking Surface — Even compared to a non-desk treadmill, this is a huge running surface!
3.0 Continuous Duty HP Motor — This motor is strong enough to handle running, walking, and incline work.
Extended Warranty — The Thinline Pro Desk Treadmill has a fantastic warranty…
Lifetime Motor and Frame
2-Yrs Labor
5-Yrs Parts
More Features
Desk & Console Mode — While working (and walking) you can fold the console down and have a work space.  When you are ready to get serious with your exercise, you can flip up the desk to reveal a typical treadmill console with a 7" Backlit display and various controls.
0-12 mph Quickspeed— Most other treadmill desks are limited to slower speeds.  This machine reaches 12mph, which is standard for a high end treadmill.
Inclines 15% and Declines 3% – This machine can switch up incline levels from 15% to negative 3%.  This is an impressive range.  Many regular running treadmills don't even have downhill inclines!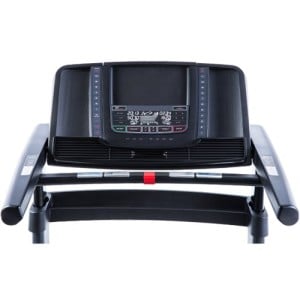 iFit Live Compatible — iFit Live is the patented fitness tracking platform available on ProForm and NordicTrack machines.  It allows you to create custom workouts, simulate virtual courses, sync to GoogleMaps, receive audio coaching, track your progress online, set goals, and more!   (Learn about iFit Live)
40 Workout Programs — Vary your workouts with hill climbing challenges, interval training, or programs focused on weight loss.  This is a large selection of programs to keep you from getting bored while working out.
Workout Fan — The fan only works when the machine has the console configuration.  It blows directly at your core.
In-Handle Controls — The controls for both speed and incline are on the handles.
Folds — Save space in your office with the folding feature.  It has hydraulics to assist with the conversion.
Superior Shock Absorption — This treadmill desk has really good shock absorption since it is built around a real treadmill.
Our Review — ProForm Thinline Pro Desk Treadmill
There are many versions of the treadmill desk out on the market, but you will find that most of these models are cheap in comparison to the models offered by ProForm.  The ProForm Thinline Pro desks combines the benefits of walking while working with a real treadmill that is able to deliver a fantastic workout.  With a strong warranty, this and the regular ProForm Thinline Desk are some of the best treadmills on the market.
Go to www.proform.com/treadmills to learn more.