Nearly Identical to the NordicTrack x11i Incline Trainer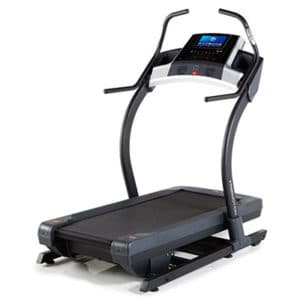 The FreeMotion 2000 GS is an incline trainer from the same parent company that produces NordicTrack.  This manufacturer, Icon Fitness, is the largest maker of fitness equipment in the world.  Many of their machines use the same components across brands.  In this particular instance, you will find nearly identical specs between the FreeMotion 2000GS and the NordicTrack x11i Incline Trainer (available for several hundred dollars less.)
An incline trainer is going to boost your workout effectiveness by allowing you to walk on inclines up to 40% and down to -6%.  These low-impact workouts will let you burn more calories while you walk.  With a 4.25 CHP motor, there is also no reason you couldn't use this machine for some solid running workouts.  You'll also benefit from a wide range of fitness tracking capabilities.
Top Features on the FreeMotion 2000GS
4.25 CHP EnduraDrive Motor – This motor comes with a 10-year motor warranty compared to a lifetime DurX Commercial Pro motor on the NordicTrack Incline Trainer x11i.
22×60" Tread Belt – This is a great size tread belt that will work for almost all heights of people.
Incline/Decline – The FreeMotion 2000GS Incline trainer cranks up to 40% incline and -6% decline with easy select buttons.
10" Color Touchscreen – Use the innovative features of iFit Live on this brightly lit touchscreen display. Create custom routes using GoogleMaps, run the streets of Paris, or workout with Jillian Michaels.  This fitness tracking program lets you manage an online profile, set goals, and track your progress.  Be aware that it also requires an ongoing subscription fee.
44 Workout Apps – This wide range of workout programs includes heart rate programs using a wireless chest strap.
Cushioning – The FreeMotion 2000GS has a slightly different cushioning system than that found on the NordicTrack x11i.
Our Review of the FreeMotion 2000GS
This machine is extremely similar to the NordicTrack machine with two major exceptions.  First, this machine has a lower-warranty motor.  Second, it has a different cushioning system which we will leave up to your personal preference.  The price on this machine is several hundred dollars more than the NordicTrack x11i Incline Trainer, so we would recommend you take advantage of the NordicTrack model over the FreeMotion model.  The improved warranty on the NordicTrack model only adds to this value.