Sole TD80 Treadmill Desk
| | |
| --- | --- |
| Brand: | Sole Fitness |
| Expert Rating: | |
The Sole TD80 Treadmill Desk is On Sale!
Walk Through Your Day In Comfort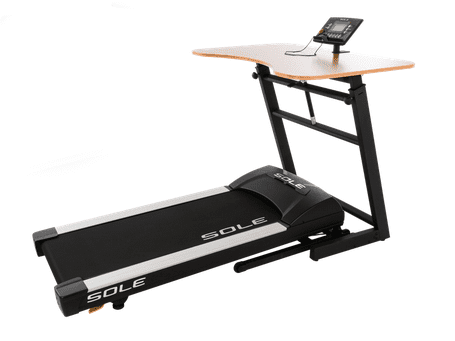 If you are looking to make your fitness a part of your lifestyle, as opposed to an item on your to-do list, the TD80 Treadmill Desk from Sole may be just what you're looking for.  Released in 2019, this model combines all of the quality construction and durability that we have come to expect from Sole and it won't let you down in the comfort department either.
When it comes to treadmill desks we have to view things a little differently since you aren't necessarily looking for all the same features as you would in a regular treadmill. The first thing is that we aren't going to be seeing a giant Smart HD Touchscreen display, because it's a workspace first and foremost. You also won't be seeing top speeds of 12 mph and a 12% incline since that would be wasted performance.
The Sole TD80 is made for walking and maintaining comfort and convenience, and it doesn't disappoint in either respect.
Sole TD80 Features
Quality Construction – The solid, heavy-duty construction of the TD80 means that you don't need to be worried about a flimsy machine that can't keep up. Sole puts the quality right out there saying the TD80 has a "bullet-proof frame and the highest grade welded steel construction".
Its heavy-duty construction means the TD80 can easily support users up to 325 lbs. This is great because walking is a great way to start your fitness journey if you are overweight.
The 2.5 CHP motor supports speeds between 0.5-4 mph, which is really the most you would ever need. This is one area where Sole recognizes that you don't need to pay for a huge motor that you aren't going to use.
Quiet Use – Since you may be using your treadmill desk in an office environment, it is really important that you aren't disturbing those around you. The flywheels and patented roller system on the TD80 provide a smooth, quiet use every time you turn it on. It won't be distracting for you, and your coworkers will definitely appreciate the peace and quiet.
CushionFlex Whisper Deck – Impact on your joints is something to keep in mind whether you are training for a 5K or walking while you prepare for your afternoon meeting. The deck on the Sole TD80 is the same that you find on their other treadmills and it reduces impact on your body by up to 40%.
Spacious Workspace – The tread belt on the TD80 is quite large at 20" x 50" so you won't feel cramped or like you need to be careful about falling off the back. In addition to being roomy for your lower body, the TD80 also provides the space that your upper body needs. The 47" x 31" desktop definitely allows you enough space for all the things you need to do your job effectively. Phone, laptop, paperwork…everything you need will be within reach.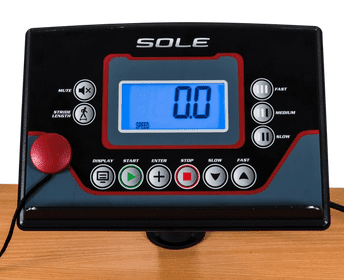 LCD Console – Even though you don't have a fancy HD Touchscreen that doesn't mean that you don't have anything to keep track of your stats. The LCD console that comes with the TD80 shows your time, speed, distance, calories and stride among other things.
The best part about the console is that it's moveable, so you can attach it on the desktop wherever you want. It won't ever be in the way when you're focusing on more important things throughout the day.
Convenience – The TD80 is loaded with features that make it comfortable and convenient for you. You can easily adjust the height of the desktop with a simple lever and the toggle switches let you quickly and easily adjust your speed without interfering with your work. The three preset speeds mean that you can start and stop with a press of a button. That means you aren't taking time away from your work to adjust a bunch of settings.
Quick folding capability is another great feature on the TD80. When you're done for the day, or you have clients coming in for a meeting, you can fold it up and tuck it away to save space.
Warranty – Lifetime Frame, 5 year Motor, 2 year Parts & Labor
Click Here for a Full Chart Comparing Sole Fitness Treadmills
Our Review — Sole TD80 Treadmill Desk
In the world of treadmill desks, Sole has really stepped up to the plate with the TD80. Sole has focused on quality, comfort and convenience, which are exactly what you should be looking for in a treadmill desk. The flashy add-ons, high max speeds and extra incline look great on paper, but how practical are they in the office?
This is exactly why the Sole TD80 is such a great option, it does the things you need really well without making you pay extra for things you won't use.
The 2.5 CHP motor is going to be able to handle a long day of walking, so there's no worry there. And the 4 mph top speed is probably the most you will realistically need. If you want to start doing speed drills in the afternoon, it's probably best to leave the office anyway.
The patented roller system and cushioned deck are also great features. Not only do they mean smooth use for you with significantly less impact on your joints, it keeps your work environment quiet for those around you.
In terms of convenience, we have to talk about the oversized workspace. Other brands use the word over-sized, but the TD80 actually means it. The 47" x 31" desktop is much larger than you'll find on other brands. And when your treadmill is meant to be used as a desk, it's super important that it be able to function as a desk and the TD80 can do just that. Plus, when you need to stow it away from clients or coworkers you can quickly and easily fold the TD80 and tuck it away for later use.
Last but not least, the screen on the LCD may not be a fancy touchscreen but you can move it around wherever you want. This is a really smart feature from Sole. It keeps your stats visible without ever being in the way. You can watch your progress and feel good about the work that you're doing without distracting from your job.
All in all, Sole has knocked it out of the park with the TD80. The heavy-duty construction paired with the comfort and convenience features make for a machine that really does have it all. Plus, it's backed with a great warranty so you know they believe in their product.
If you are looking to make your fitness an important part of your everyday lifestyle, look no further than the Sole TD80.
Go to www.SoleTreadmills.com further details.