Avoiding the Health Hazards of Sitting!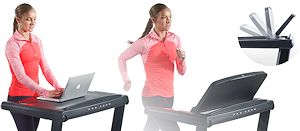 Some of the hottest selling items in the fitness equipment industry are treadmill desks.  When they first came on the market we had our reservations.  We thought, "How could someone work or talk on the phone while they are walking on a treadmill?" Since then, we've tried them out. It is not all that hard to talk, type on your computer, read your email, etc., while you are slowly walking.
There have been a number of articles written recently on the adverse affects of sitting for hours on end.  According  to research done by the Toronto Rehabilitation Institute, it doesn't matter if you have a rigorous workout routine, prolonged sitting increases the risk of heart disease, diabetes, cancer, and death.
In a recent article in the Washington Post they listed a number of potential hazards from sitting for extended periods of time, which included muscle degeneration, colon cancer, heart disease, poor leg circulation, disk damage, reduced brain function, and an over productive pancreases.  So a treadmill desk makes sense!
Another interesting article – Could Working at a Treadmill Desk Make You Smarter?
The Benefits of the ProForm Thinline Desk Treadmill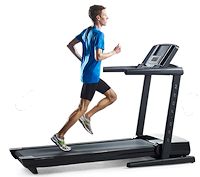 In response, and obviously to make a buck off this trend, ProForm came out with the Thinline Desk Treadmill.  What makes this treadmill desk a standout is the versatility.  The desk actually sits on top of a real treadmill.  When you are not working and walking at a snail's pace you can convert the treadmill desk into a running treadmill.
There is one higher ProForm model called the Thinline Pro Desk Treadmill, but the only real difference is a 3.0 CHP motor vs at 2.75 CHP motor with this model for about $700 extra in price.
Most of the companies that sell treadmill desks place a desk platform over a cheap version of a treadmill deck.  The walking surface is typically very small and the motor is underpowered. The quality of the treadmill deck is reflected in limited warranty coverage. In comparison with the ProForm Thinline Desk Treadmill you have…
22"x60" Walking Surface — This is above average even for a normal treadmill.
2.75 Continuous Duty HP Motor — The motor in the ProForm Thinline Desk Treadmill is adequate for handling walkers and runners.  Note:  The ProForm Thinline Pro Desk Treadmill has a 3.0 CHP motor.
Extended Warranty — The Thinline Desk Treadmill has the most extensive warranty on any treadmill desk…
– Lifetime Motor and Frame
-5 Years Parts
-2 Years Labor
Other Features…
Desk & Console Mode — When working and walking you can fold the console down and have your work space.  When rigorously exercising on the Thinline Desk Treadmill, you can fold the console up and have a typical treadmill console with a 7" LCD display and various controls.
0-12 mph — You'll find most treadmill desks max out at a low MPH pace.  The ProForm Thinline Desk Treadmill  reaches 12 mph, which is standard for a high end treadmill.
Inclines 15% and Declines 3% – The Thinline Desk Treadmill not only allows you to go to a heart pounding 15%, you can also decline to 3%. This allows you to simulate going up and down hills and target various lower body muscles.
iFit Live Compatible — iFit Live is a patented technology only found on ProForm and NordicTrack treadmills. It allows you to create custom workouts with audio coaching based on your fitness goals, track you stats and progress online, and simulate running outdoors.   The features are much more extensive than this brief description.  (Learn about iFit Live)
40 Workout Programs — The ProForm Thinline Desk comes with a variety of challenging workouts that focus on fitness goals like weight loss, hill climbing, and interval training.
Workout Fan — The breeze from the fan will not blow you away, but it is directed at your core.  It only works in console mode.
In-Handle Controls — The controls for both speed and incline are on the handles.
Folds — The Thinline Desk Treadmill folds to conserve space.  It uses hydraulics to make it effortless to raise or lower.
Superior Shock Absorption — Since the Thinline Desk is built around a real treadmill you end up with superior shock absorption whether you are walking or running.
Our Review — ProForm Thinline Desk Treadmill
These days there are numerous versions of the treadmill desk.  Most are very cheap treadmill decks with a desk over them.  The walking space is confining, the power is minimal, and the shock absorption is inadequate.  For many, that may be sufficient.  However, if you want the versatility of a treadmill desk and a real treadmill, the ProForm Thinline Desk Treadmill is the answer.  This model and the Pro version are a couple of the best treadmill desks on the market.
Walking alone is a vast improvement over sitting all day, but the benefits are still limited.  The option of working out on a real treadmill will substantially increase the health benefits.
Learn more at www.proform.com/treadmills.
Customer ProForm Thinline Desk Treadmill Reviews – Having been recently released there are currently no customer reviews.