Choose Between an Electric and Non-Electric Folding Option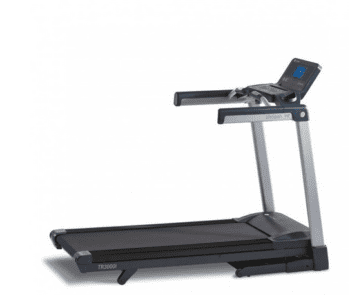 This is a smaller company  that primarily sells through individual fitness stores and on Amazon.com.  LifeSpan's goal is to create quality products to help average folks reach their fitness goals.
The LifeSpan TR3000i and TR3000e are a budget friendly option in a series of machines that starts with the popular LifeSpan TR1200i.  The main different between the TR3000i and TR3000e models is in their folding mechanisms.  Depending on the current  pricing, you can get an electric folding model for surprisingly cheap!
LifeSpan TR3000 Treadmill Features…
Electric Folding – The TR3000e can fold easily with its electric folding feature.  We like this feature a lot.  Make note that the TR3000i only has EZ Lift assisted folding.  There will be a slight gap in their prices because of this difference.
Bluetooth – The LifeSpan TR3000 can connect to your computer using a Bluetooth receiver.  You will need to purchase this at an additional cost.  The trend in the industry is moving towards machines that have Bluetooth already built into the unit so this feature is a bit 'behind the times' in our opinion..
Media Holder – The media holder is handy to have but any large books or papers are going to block your stat display during your workout.
Intelligent Features – There are some unique features built into the  TR3000.  The Intelli-Step is a built in pedometer that counts your steps while you exercise.  The Intelli-Guard will halt the machine 20 seconds after you step off for safety reasons.  The Intelli-Key will simplify the console operation with illuminated lights to guide you through the set-up sequence.
2.75 Continuous Duty HP Motor —  This is a fine motor for walking, light jogging, and maybe some running if you are not excessively heavy.
20″ x 56″ Running Surface —  This length will work well for most people.  If you are over 6-foot, you will want a 60″ length.  Brands like ProForm will offer machines with a larger motor and longer length at a lower price.
Rollers — 2.5″ is a good size for front rollers.  They will help extend the life of your motor, belts, and bearings.  Larger rollers result in a quieter machine as well.
Programs — There  are 17 programs built into this machine.
Warranty – Lifetime frame and motor, 5 years parts, 1 year labor.  A strong warranty.
Our Review — LifeSpan TR3000e Treadmill
There is nothing wrong with the  LifeSpan TR3000e or TR3000i.  In fact, we really like the electric folding mechanism.  It will make it much easier to store your machine if you suffer from any sort of back problem where lifting would be too strenuous.  We just want to point out that you can buy a machine with MUCH better specs (stronger motor, longer deck, more tech features, and better cushioning) for a better price from a company like ProForm.  Check it out.