Better Quality Than Other Treadmills in this Price Bracket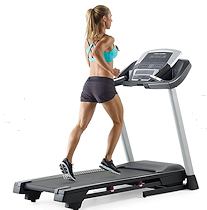 The ProForm Performance 400C treadmill is their new entry model.  Every year their treadmills improve quality and include more enhanced features.  ProForm is part of Icon Fitness, which also builds NordicTrack, Weslo, Gold's Gym, Epic, and Image.  Their economy of scale allows ProForm to offers some of the best value in the $600-$1,000 price range.
The ProForm Performance 400C treadmill is a perfect example.  For the typical price of $599, it surpasses many comparable priced treadmills, however, this is a budget treadmill that does have limitations.  People will buy this treadmill to run on, or for multiple users.  I would recommend it primarily for walking and maybe for one or two users who workout several times a week.  Understand that $599 is not a lot for a treadmill, especially when you factor the free shipping in the price.
ProForm Performance 400C Treadmill Features…
iFit Live Compatible — iFit Live is the most innovative interactive motivational technology found on a cardio machine.  It allows for two way communication between your treadmill and the Internet (Wi-Fi required).  You start by setting up a profile on ifit.com and define your fitness goals, like losing so many pounds over a certain time frame. Based on those goals iFit Live will download personalized workout programs designed by professional fitness trainers like Jillian Michaels.  The workouts are progressive and include audio coaching.  Your stats are fed from the ProForm Performance 400c back to iFit.com, where you can track your progress.   It is proven that those individuals that track their progress are more likely to succeed.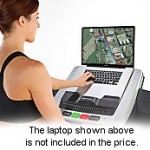 In addition, you can map out routes to walk on Google Maps.  This requires the use of a laptop or smart phone.  There are slots for a laptop on the console.  Once you define a route, iFit Live will simulate the terrain by adjusting the incline.  You can view the route either with a satellite, map, earth or street view through your laptop. I've used this feature and was able to run through my neighborhood, while viewing familiar sites.  There is also an existing library of popular city scape routes and trails through national parks. There is an extra cost for this feature.
2.25 Continuous Duty Motor — Not the strongest motor out there, but more than adequate for walkers and light joggers.

Easy Fold — The Performance 400C folds, to allow you to save save. It also has wheels to move about. The folding mechanism has a shock that makes lifting or lowering simple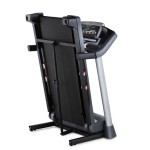 .
300 lb. Weight Capacity — Considering this is a budget treadmill, I feel 300 lbs. is rather high.  I would place it at around 230 lbs., but I am always conservative when it comes to weight limits.
20″ x 55″ Treadmill — Sufficient for most users.  Extremely tall individuals may want to consider a 60″ belt.
Shock Absorption — The ProShox deck is a vast improvement from walking or jogging on the street.  However, their more expensive units do a better job of absorbing impact, especially if you are a runner.
Four Window LED Display — The display on the Performance 400c allows you to monitor three stats simultaneously, like speed, time, distance, and calories burned.  There is also a progress graph display.
15 Workout Apps — You get 15 built-in workouts that include 5 calorie-burn, 5 timed or 5 distance.  I find changing workouts breaks up the routine and gets me out of ruts.
Speakers with MP3 Input — ProForm sound systems are some of the best found on fitness equipment, and being able to plug in your MP3/iPod player is convenient and preferable to exercising with headphones.
Built in Fan — A popular feature with customers.  It is designed to target your core, and when you keep cool you are likely to exercise longer.
Warranty — You get 25 years are the motor and 1-year parts and labor.  Reasonable at this price.
Our Review — ProForm Performance 400C Treadmill
If your budget is limited and your exercise routine will be moderate, then you are not going to find a better value at $699.  In addition, if you want features that will help to motivate you in achieving your fitness goals, you got iFit Live, 15 built-in challenging programs, and a sound system for rockin out.
ProForm dominates this price bracket because they can offer more for less, and they build decent cardio machines.
Go to www.proform.com/treadmills to learn more!