An Electric Folding Treadmill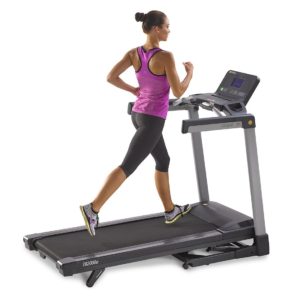 LifeSpan is a boutique fitness equipment dealer that sells primarily from specialty fitness stores and through Amazon.com.  The company's goal is to offer quality products that help the average person reach their fitness goals.
This particular model, the LifeSpan TR2000e, is just one of a wide range of machines built with quality components.  The TR2000e is one step up from a popular model called the LifeSpan TR1200i.  It will get you some decent features for under $1,000.
LifeSpan TR2000e Treadmill Features…
Electric Folding – The TR2000e will fold up with the push of a button.  It takes less than a minute to fold and unfold.  Once folded, it is up on 4 wheels so it can easily be rolled around on a hard floor surface.
Bluetooth – The LifeSpan TR2000e has the capability to connect to your computer using an optional Bluetooth receiver.  This is available as an additional purchase.  While a purchased receive isn't unheard of, the trend is definitely leaning towards having this technology already built into the machine.
Media Holder – This is another feature that is new on the TR2000e model.  It has a media holder to hold your phone or tablet just behind the control buttons.
Membership to LifeSpan Fitness Club — Fitness tracking apps are becoming common features on newer treadmills.  People want to keep track of their stats so they can track their progress and make better progress towards their goals.  The  LifeSpan TR2000e comes with a free membership to the LifeSpan Fitness Club.  This online resource will help you set up an exercise plan, provide information on health and fitness topics, and help you track your workouts.  Transfer your stats to a computer either using a removeable USB thumbdrive, or by purchasing an additional Bluetooth Receiver.
2.5 Continuous Duty HP Motor —  This motor will work fine for walkers and joggers of average weights.  It may strain with heavier people.
20″ x 56″ Running Surface —  This is a fairly typical length for this price range, although you can get a 60″ length on machines from companies like ProForm for the same cost.
Rollers — 2.5″ is a large size for front rollers and will help your machine extend the life of the motor, belts, and bearings.  It will also reduce the noise.
Speakers with MP3 Input — This machine has decent sound…nothing to write home about.
Programs — There is a wide range of 17 programs for this machine.  They include programs to help with sports training, healthy living, and weight management.
Warranty – Lifetime frame and motor, 5 years parts, 1 year labor.
Our Review — LifeSpan TR2000e Treadmill
This machine is very similar to the LifeSpan TR1200i model.  For a price increase of $100, you will get a better warranty, better cushioning system, Bluetooth capability (as a separate purchase), and a media holder.  Overall, this machine has very strong reviews from customers.  They particularly like the ease of the electric folding system.
While this company has a good reputation for making quality machines, we feel that you may be better off with a machine from a company like ProForm.  For example, the ProForm Power 995i has a larger motor, larger deck size, and much more capability with fitness tracking for the same price as the TR-2000e treadmill.