"Business in the Front.  Fitness in the Back."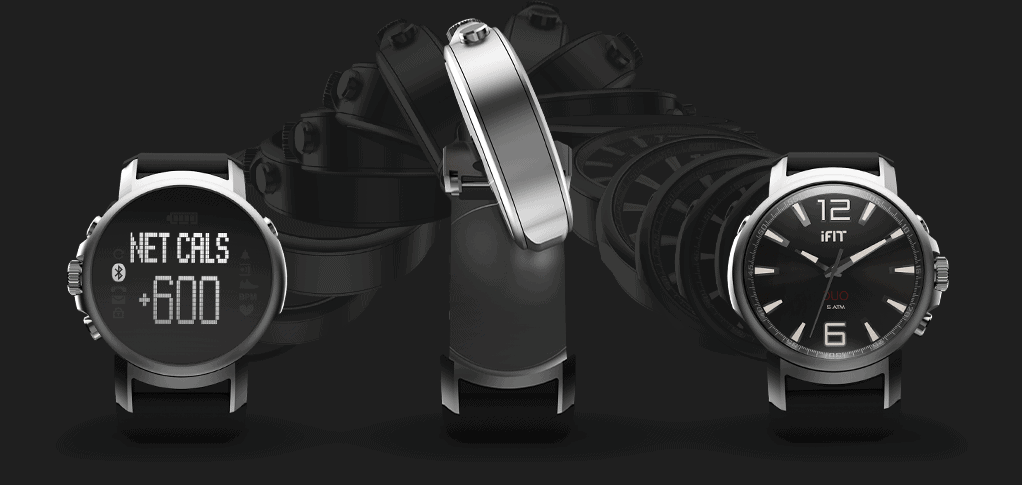 The iFit Duo is a brand new smart watch available from the makers of NordicTrack and ProForm.  It is a double-sided time piece with a reversible face so you can enjoy a classic dial face while at work, and a bright LCD screen display when you are ready to hit the gym.  The LCD side of the screen displays your real-time activity stats and fitness data so you can track your workouts and make better progress towards your fitness goals.
iFit comes from the same company that makes NordicTrack and ProForm so you can feel confident in the quality.  In the last several years, wrist worn fitness devices have increased dramatically in popularity.  This newest version from iFit allows you to track your workout data, which will then be stored on your online iFit account, so you can integrate seamlessly with your other iFit enabled equipment.
iFit Duo Features
Display –  There are several models of wrist worn fitness tracking devices on the market, but few of them work so well for both business and play.  We like that this particular brand has a reversible watch face that transitions between a traditional analog watch face and a digital LCD display for workout stats.  This prevents you from either wearing two devices on your wrist or having to pay an outrageously high amount of money for a popular red and crispy 'fruit' brand.
Battery – The battery is easily rechargeable using a USB cable.
Water-Resistant – It's virtually impossible to keep yourself completely dry when you live an active lifestyle, so we are happy to see that this watch is water resistant up to 5 ATM.  The sales page even suggests you wear this watch while you go for a swim!
Styles – The iFit Duo comes in three design styles so you can pick the one that matches your preferences. Each version also comes in both male and female versions.
Technology – The iFit Duo syncs wireless via Bluetooth 4.0.  All of your workout stats and activities will be recorded by your Duo and then uploaded to the same cloud network as your other iFit Devices.  This means that you can see your treadmill workouts and outdoor workouts all in the same place.  The convenience here is pretty obvious.  The watch is also compatible with many Android and iOS apps.
On-Screen Notifications- The Duo will discreetly notify you when you receive a call or text message so you can choose which ones are important.  It will send you healthy suggestions about when to get up and move when you've been sitting for a long period of time.  You can also enable vibration notifications.
Our Review:  The iFit Duo
We gotta admit, this iFit Duo is a pretty snazzy timepiece.  We like that there are several styles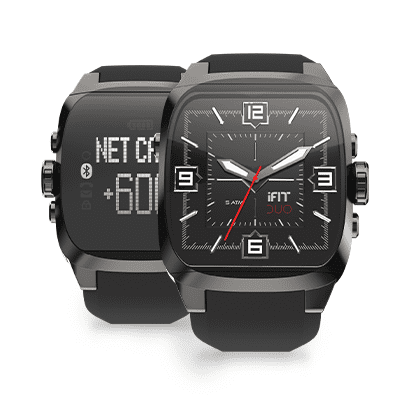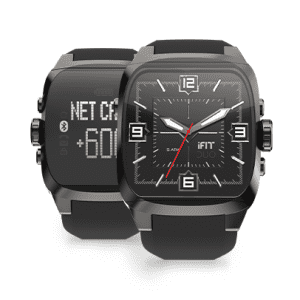 available so you can choose the one that best matches your typical wardrobe.  The transition from analog to digital face is also extremely convenient.  At only $299, it is a better buy than many of the other smart watches available on the market.  The iFit Duo will help you keep track of your workout stats ALL day long so you can make better progress towards your fitness goals.  Since this watch is made by the makers of the NordicTrack and ProForm machines, we feel confident in its quality.
Go to Amazon.com to learn more.