Click Here to Download
A Buyer's Guide for a Runner's Treadmill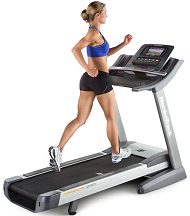 If you are an obsessed runner like myself,you do not want the weather or other factors to limit your ability to burn calories and get a strenuous cardio workout. The logical solution is a treadmill, which allows you to run in any weather and in the convenience of your home.
If you are in the market for a treadmill specifically for running, this free e-book is an excellent buyer's guide.  Especially since runners require particular treadmill features that can accommodate the abuse that comes from running.
Inside "How To Select the Best Running Treadmill for your Body and Budget" you will learn about …
The benefits of training on a treadmill.
What features you need on a running treadmill.
What you should pay for a treadmill.
Where you should buy a treadmill for running.
The latest interactive technology designed to motivate runners in achieving the fitness goals.
There currently is technology that allows your treadmill to communicate with the Internet.  With this technology you can…
Design customized workouts.
Trace routes on Google Maps and experience the actual terrain with the incline adjustment.
Record and track your results online.
You'll learn how this technology can improve your running experience and make you a better runner.
There are countless treadmill brands and models.  Some are cheap throw-away models, while others are commercial grade for the home.  After reading this e-book you will be an informed consumer, able to select the right treadmill for your body and your budget!
Regards,
Fred Waters