Freemotion Fitness was founded in 1999. Back then, their brand was known as Ground Zero. Ground Zero was known for their innovation of the first full circuit cable-based strength training line. In 2001, Ground Zero was acquired by ICON Fitness. ICON has numerous brands, some of the most recognizable are ProForm and NordicTrack. At the time of their acquisition by ICON, Ground Zero was renamed Freemotion Fitness.
Orangetheory and Freemotion Partnership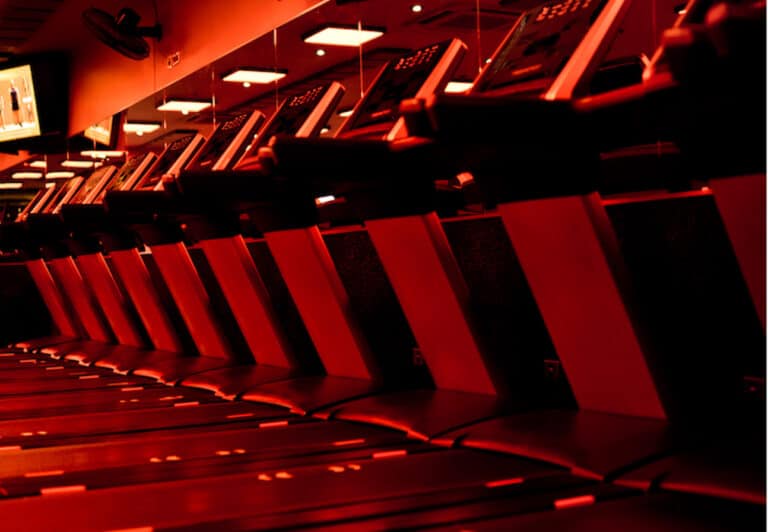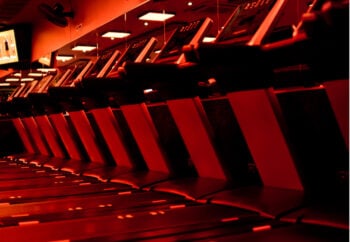 Freemotion did not have much of a footing in the fitness equipment industry niche until recent years, when they launched their largest partnership to date with Orangetheory Fitness. If you have ever taken an Orangetheory class and used one of their treadmills, you were using a Freemotion machine. Orangetheory has really boomed in recent years and become a giant in the fitness world. Their workouts are heart-rate driven HIIT total-body workouts, designed to increase metabolic burn during and after your workout. For Orangetheory them to choose Freemotion out of all the other brand choices out there says a lot about the quality of Freemotion treadmills.
According to Orangetheory's Director of Construction and Studio Development, William Gabel, the driving factor behind choosing Freemotion to utilize in their fitness classes is the specs, quality, and durability of their machines. Gabel states, "Some companies try to cut corners by making machines with cheaper parts. But, with Freemotion, it's just the opposite. The treadmill keeps getting better and better that that's because of partnership and the Freemotion engineering team."
Freemotion Treadmill Features
Speaking of the Reflex deck on Freemotion treadmills, let's dive right into some of the top features that you can expect to find on these machines.
Patented Reflex Deck – There was a university study done to compare a Freemotion Reflex treadmill, a Life Fitness treadmill, a Precor treadmill, and flat surfaces. Based on the survey results, it was found that the Reflex cushioning from Freemotion was shown to average 29% greater reduction in running impact compared to the other treadmills. While this is obviously a huge advantage when you're doing a HIIT Orangetheory class, it's also a really great bonus for any treadmill user. When you're walking or running on a treadmill, there will be impact to your joints with every step that you take. The cushioning on a deck can literally "make or break" your workout. Reflex cushioning from Freemotion is designed to lessen joint strain and keep you safe and pain free while you are on your treadmill.
Motors – Although we would expect to see this for the high price tags that Freemotion treadmills have, these are some of the best motors that you will find on the market. They offer strong horsepower, quiet during use, and are very minimal in terms of vibration.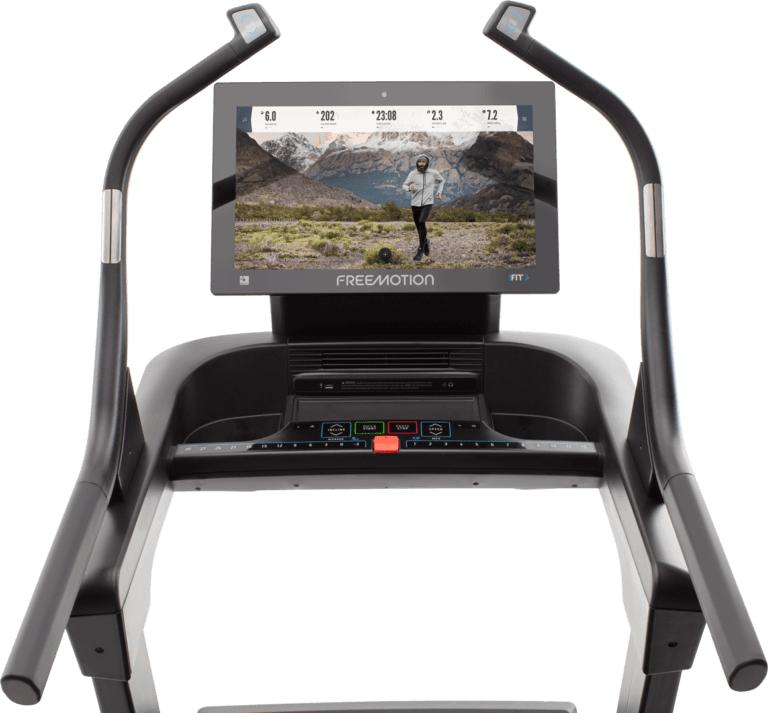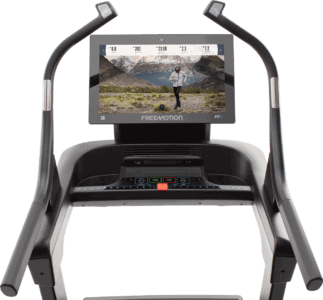 Consoles – These consoles are not for the faint of heart. If you're looking for just a standard run-of-the-mill that will simply show you your speed and incline, look away from Freemotion treadmills. The consoles on their treadmill lineup are seriously impressive. It's essentially like having a touchscreen television right on your treadmill. Freemotion consoles are really unlike anything else that you can find on the market, they're extremely luxurious.
Incline and Decline Capabilities – When you're using a treadmill, you want it to simulate natural walking and running as much as possible. When you're outdoors, there is no such thing as a perfectly flat terrain. Freemotion treadmills offer the ability to both incline and decline. This will mimic going up and down hills to simulate an outdoor experience as much as possible. As a bonus, it recruits more leg muscles which in turn boosts your caloric burn.
iFit Enabled – iFit is the interactive fitness technology that is available on select product lines from ICON fitness. The most popular brands offering iFit are NordicTrack and ProForm. iFit is a monthly subscription-based service that gives users access to on demand and live workouts from world renowned fitness trainers and professionals.
Drawbacks of Freemotion Treadmills
Price – Let's be honest that these treadmills are not budget-friendly in the slightest. In fact, Freemotion doesn't even list their pricing on their website. However, you can expect to spend close to $10,000 on a treadmill from Freemotion.
Warranty – To be such a high-end brand, their warranty doesn't live up to the price tag. There is a 7-year frame warranty, 2-years parts & console, 1-year labor, and 6 months on cosmetic items. When you're sinking 4 grand into a treadmill machine, you'll want an outstanding warranty. Unfortunately, that's not what Freemotion offers.
Customer Service – Again, with luxury price points we would expect an attentive and responsive customer service department to match. It's been reported over and over by consumers that the Freemotion customer service department is lacking. In addition, if you need to reach out to make a claim for warranty coverage, it's been reported that their service team makes this next to impossible.
Are Freemotion Treadmills Worth the Splurge?
Although the drawback cons list is short in comparison to the pros list for Freemotion treadmills, it should be taken into consideration that the drawbacks are arguably three of the most important aspects when purchasing fitness equipment. Most consumers are looking for a treadmill that's available at an affordable price, with a great warranty, and exceptional customer service. It doesn't matter how great the components are on a machine if you 1) can't afford it, 2) it has a shabby warranty, 3) and you can't get help from the brand if something goes wrong.
Although we consider the overall construction of Freemotion machines to be top-tier, we suggest considering treadmills from other ICON brands that have similar quality components with much better warranties and consumer reviews. The most similar brands that offers comparable components and technological features would be NordicTrack and ProForm.
In addition, when you purchase a treadmill from NordicTrack or ProForm, you are also getting access to iFit technology, a major perk of Freemotion treadmills. Since they are all made at the same manufacturing facility and offer the same fitness technology benefits, there are a lot of similarities between the brands. But there are a few thousand dollars of difference between them.
Budget-Friendly Alternatives to Freemotion Treadmills
#1 Pick: NordicTrack x32i Commercial Incline Trainer
Now when we say budget-friendly, the x32i Commercial Incline Trainer certainly isn't a cheap treadmill. But, if you want features that stack up against Freemotion machines, you're going to have to expect a decently priced treadmill. In comparison to the hefty price tags on Freemotion treadmills, the x32i from NordicTrack is a much more affordable alternative. We typically see it priced for $3,999, and sometimes they will run a sale to discount it even more.
For the sake of this comparison, we'll look at the i22.9 Incline Trainer from Freemotion. It comes with a pretty whopping price tag of $10,899. Yes… you read that right.
So, how does the x32i Commercial Incline Trainer from NordicTrack compete with the i22.9 treadmill from Freemotion? Let's compare.
Motor
Winner: Freemotion i22.9
The motor on the Freemotion treadmill is arguably the most impressive feature on it. It's a 5.0 CHP motor. Basically, this motor can take anything that you throw at it. To be frank, this is way more than you will ever need for residential use. This is really only every necessary in a commercial gym setting. The NordicTrack x32i Treadmill has a 4.25 CHP motor, which is still more than sufficient for residential use. This is one of the largest motors that you will find on a treadmill designed for in-home use. It's really meant to take a beating.
Screen Size
Winner: NordicTrack x32i
The i22.9 from Freemotion has a 22" touchscreen, and the NordicTrack x32i has a 32" touchscreen. If you want a mini television on your treadmill, you'll get it with the x32i treadmill.
Technology
Winner: Tie
Both of these treadmills offer access to ICON's interactive fitness technology known as iFit. It's a great bonus feature for anyone who wants extra accountability, motivation, and variety for their treadmill workouts. It is an additional monthly fee.
Speed
Winner: Freemotion i22.9
The NordicTrack x32i goes from 0-12MPH, and the i22.9 from Freemotion goes from 0-15MPH. Again, the 15MPH is a bit excessive from in home use. 12 MPH top speeds will allow you to do some intense sprinting or interval training.
Incline & Decline
Winner: NordicTrack x32i
The range on the i22.9 from Freemotion is -3% decline to 30% incline. The x32i from NordicTrack takes the cake once again in this aspect. It ranges from -6% decline up to 40% incline. You'll be able to simulate outdoor exercise, with uneven inclines and declines on your terrain. Plus, you'll recruit more muscles while you're working out and burn even more calories. The incline and decline capabilities are a really nice perk that a lot of treadmills don't have.
Cushioning
Winner: Tie
The cushioning on a treadmill deck is one of the most important features. It's especially important if you have any injuries, suffer from joint pain, or you're going to be doing intense exercise on your treadmill. The best cushioning will keep your joints protected and pain free. One of the nice things about Freemotion and NordicTrack being manufactured by the same parent company is that they have access to the same technologies. Both of these treadmills are designed with Reflex cushioning to lessen strike impact.
Belt Size
Winner: NordicTrack x32i
The belt on the i22.9 from Freemotion is 21.5×60". This is an impressive size, but the belt on the x32i from NordicTrack is even bigger. It's a huge 22×65". This is honestly the largest belt that we have ever seen on a residential treadmill, and on most commercial treadmills for that matter. It will give you plenty of room.
Warranty
Winner: NordicTrack x32i
Once again, NordicTrack beats out Freemotion in another feature. The warranty on the i22.9 from Freemotion is 7-years frame & motor, 2-years parts & console, 1-year labor, and 6 months cosmetics. The x32i from NordicTrack offers a 10-year frame, 2-year parts, and 1-year labor warranty.
To learn more, check out our full review here or click here to shop the x32i Treadmill.
The Bottom Line
As you can see by the spec comparison breakdown, NordicTrack beats out Freemotion (and for a heck of a lot less money). For over a $6,000 difference in the price, you may be surprised to see that the NordicTrack x32i Commercial incline Trainer offers many of the same (and in many aspects – even better) features than the top-selling treadmill that Freemotion has to offer.
Due to the outrageous pricing, sub-par warranty options, poor customer service, and the fact that you can get the same features on another treadmill – we don't feel comfortable recommending our readers to buy a Freemotion treadmill at this time. You will be much better off saving up to purchase the top-tier machine from NordicTrack, the x32i Commercial Incline Trainer.
This article was written by
Brook Norris
and published on Friday, 18 February 2022.
Freemotion Frequently Asked Questions
How much is a Freemotion treadmill?

You can expect to spend anywhere from $5,000-$12,000 on a Freemotion treadmill.

What kind of treadmill is used at Orangetheory?

The Freemotion Reflex treadmill is used in Orangetheory workout classes.

Who makes Freemotion treadmills?

ICON Health & Fitness, the same company who also makes NordicTrack and ProForm treadmills.

Is Freemotion a good brand?

Freemotion is a very impressive brand, but with their outrageous price points there are better alternatives to choose from for residential treadmill use.

Where can I buy Freemotion treadmills?

Freemotion treadmills are available exclusively on their website, however you can often find refurbished models available online.