Sole Studio Review: Is It Worth It?
Since the eruption of technology use in our society in recent years, we have seen a steady decline of human health.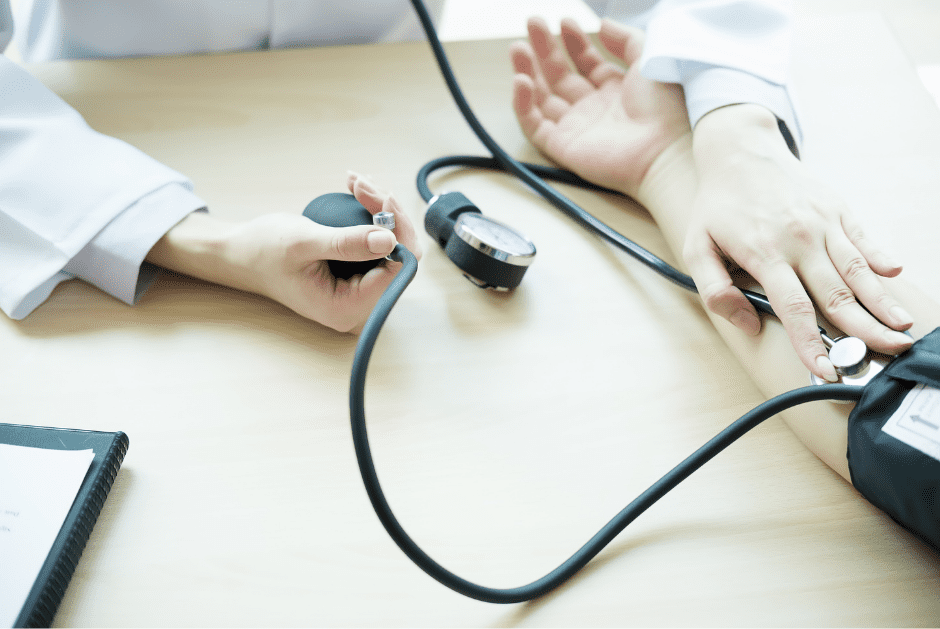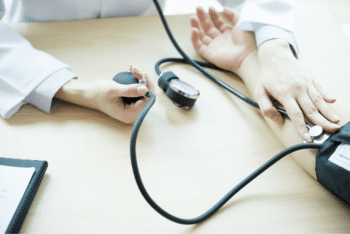 Now more than ever, cardiovascular diseases and other health related issues such as high blood pressure and high cholesterol are very prevalent. To combat this, experts in the fitness industry have started to use technology as a tool rather than a hindrance.
What does that look like? Incorporating fitness with technology. Of course, digital fitness technology is not anything new. Whether it be a tracking watch, an app or a program, most of us have probably used some type of technology to help us out with our fitness goals.
One of the most recent additions to the fitness technology world that has sparked consumer attention is the release of Studio from Sole Fitness.
In this article…
What is Sole Studio?

You may have heard of Sole Fitness. Sole is a major player in the fitness equipment industry. Their brand has been around for many years. Our team has had the opportunity to visit their headquarters in Salt Lake City, Utah many times and each time we have been thoroughly impressed.
The goal at Sole is to offer the highest quality treadmill possible to consumers. Throughout the years, their team has really stuck to the mission. We have found that Sole consistently produces durable and exceptional quality fitness equipment.
Recently, Sole launched their first digital fitness platform called Studio. The philosophy behind the development of Studio is to provide something for everyone. Getting in a workout can be extremely difficult, especially in our society today. Recent studies from the CDC have shown that only 23.2% of adults age 18 and over are meeting the physical activity guidelines for both aerobic and muscle strengthening activity (1).
Studio was designed to offer a workout experience that is accessible whether you are in your home or on the go. This platform meets you wherever you are in your fitness journey. You don't have to be an advanced athlete to benefit from using the Studio application.
Top Benefits of Studio


We had the opportunity to speak with one of the developers of Studio and get the inside scoop. There are 3 top features that set Studio apart from other interactive fitness programs that are available on the market.
Large Community – It's nearly impossible to stay accountable in your fitness journey if you're doing it alone. There is a real-time community leaderboard, that allows users to have competitions against other members in the Studio community. Not only will this incorporation of community access help keep you accountable, but it will also connect you to like-minded individuals who have the same goals toward health and fitness that you do. (Plus, a little friendly competition never hurt anyone.)
Consistent Motivation – Outside of the community leaderboard, there are several other features provided by Studio to keep your motivation pumping. The most unique feature is what's known as FITCOIN. FITCOIN is the fitness point system for the Studio program that allows members to level up based on their workout progress. The best part is you aren't just gathering FITCOIN for nothing. In addition to boosting your health, you can redeem your FITCOIN for prizes within the application.
Data Accuracy – This program is extremely data driven, which is very important. Research has shown time and time again that people who track their fitness are much more likely to reach their fitness goals. Every class offered in Studio integrates with a heart rate monitor to provided detailed heart rate metrics in real time. The application also pulls data from your Sole cardio equipment to show you live information during your workout.
Programs from Studio
Rather than just using your cardio machine in the same old way day after day, using the programs from Studio will help you keep your workout routine fresh and exciting. Currently, there are over 3,000 workouts available within Studio and that number will only continue to grow. There are new fitness classes added to their application every single day. As their mantra of 'something for everyone' would suggest, there are a huge variety of workout types available for members to choose from.

The types of workout classes currently available from Studio include:
Treadmill
Elliptical
Cycling
Boxing
Rowing
Strength
Yoga
Meditation
& more!
The workout programs are designed with you in mind. The programs are driven toward helping members reach their fitness goals, no matter which method of workout that you decide to utilize in the process. One of the most popular treadmill programs available is the Zero to 5K treadmill class. As you may have guessed by the name, this program will help you go from running "zero" to being able to run your first 5K by the completion of the program. 
The program instructors are qualified experts in the health and fitness industry. All of the instructors are NASM (National Academy of Sports Medicine) certified. Most of the trainers also have experience from world-renowned fitness places such as Peloton, Apple Fitness, Rumble Boxing, Barry's Bootcamp, Orangetheory, Equinox, Aaptiv, and more.

Studio offers their members top-notch training instructors that you will have access to right in the comfort of your own home. As an added bonus – Studio prides themselves in integrating killer playlists with their classes to help you stay motivated all while having fun jamming to some of the best tracks.
Studio vs. iFit Comparison
One of the most well-known interactive fitness technologies on the market today is iFit. iFit is available on machines made by the parent company Icon, which are the brands NordicTrack and ProForm. For a long time, iFit was the only option available in the industry. If you were wanting cardio equipment that had the capabilities of fitness technology, you had to choose a NordicTrack of ProForm machine in order to get access to this type of program.

However, just because iFit was the only option for a long time, doesn't mean that it is the best option now.
Over the years, we have seen a decline in the popularity of the iFit technology. When it was first launched, iFit was included for 1-year FREE with the purchase of any cardio equipment from NordicTrack or ProForm. This was a really great deal for consumers. However, now iFit only comes with a 30-day trial. A 30-day trial is a nice option for users, so that you have a month to try out the technology and see if it's the right fit for you. The real problem that we have seen is the major spike in their membership cost.
Pricing
Studio and iFit both come with a 30-day free trial. After the 30 days are up, there is a monthly recurring cost to maintain your membership to the fitness application. For an iFit membership, users can expect to pay $39/month for the monthly family plan, or $396/annually. In contrast, Studio is much more affordable. Their monthly family plan is $19.99/month, or $200 for the whole year. This is quite the price difference and can save your family some serious change over time.
Features
As far as features go, we have not seen anything that is offered from iFit that justifies the extreme price difference between the two. In fact, it's actually the opposite. After extensive research and speaking with program developers, we have been more impressed with the features offered from Studio. The features offered on their application seem to be more focused on aiding with helping members accomplish their goals at an affordable price point. Plus, we really like the fun add-on of FITCOIN, which provides an additional way to stay motivated and keep your fitness goals fun.
The Winner: Studio
Using an interactive fitness program on your cardio equipment is a great option to help you reach your health and fitness goals at a faster pace. When it comes down to choosing between purchasing a NordicTrack or ProForm machine to access iFit or purchasing from Sole to access Studio, we think that Studio is the all-around better option.
Which Sole Machine Should I Choose?
Deciding which cardio machine is the right fit for you doesn't have to be challenging. The 3 most popular categories of fitness machines for Studio technology use are treadmills, ellipticals, and bikes. However, the best cardio machine will vary from person to person, it's not a one-size-fits-all. The top two things you should consider is which type of workout you are primarily interested in, and what your price range is.
It should be noted that all the machines recommended from Sole come backed with a lifetime warranty on the frame, which says a lot about the construction of these machines. They are really a lifetime investment.
If you enjoy walking, jogging, and running; and primarily want to use the treadmill programs in Studio – a treadmill machine will be your best choice.
Best Studio Treadmill Options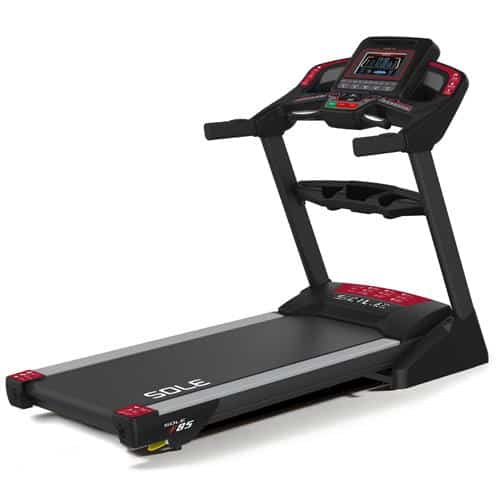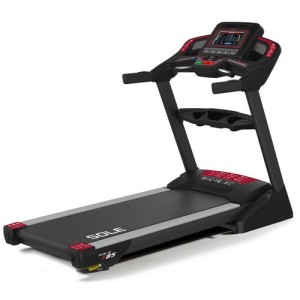 Sole F85 – Best Overall Treadmill
The overall best buy treadmill with Studio access is the F85 from Sole. Members of our team have personally tested out the Sole F85 at their headquarters in Utah, and we are continually impressed. This machine is usually priced at $1,999. This machine gives users a commercial quality treadmill at a residential price point. Most people may not know that Sole treadmills are used by the Hilton hotel chain, which speaks volumes to the durability and quality of their equipment. Some of the top features on the F85 include:
4.0 Continuous Duty HP Motor – This motor is a beast and about as powerful as you will find for a residential treadmill. It will be able to withstand any type of walking or running program that you choose to complete in Studio. The motor provides speeds form .5 MPH up to a challenging 12 MPH. Go ahead – test your limits!
22" x 60" Treadbelt – The extra long and extra wide belt on this machine is really ideal for anyone to give ample room, particularly those who are taller than 6 foot or just have a long running stride. Most everyone will find this belt plenty adequate.
XL 2.75" Crowned Rollers – The average consumer probably doesn't know how important it is to have large rollers on your treadmill. A larger roller translates into less wear and tear on your treadmill as a whole overtime. Large rollers also reduce noise level and will increase the overall longevity of your machine throughout the years.
Cushion Flex Deck – If you have any existing joint injuries or pain, you'll enjoy the Cushion Flex Whisper Deck technology on this machine. It reduces joint impact by 40%.
Folding Deck Design – Need to move your treadmill out of the way when not in use? No problem. The F85 is built with easy assist technology, that makes folding a breeze.
Other Features – 10.1" TFT-LCD touch panel, phone and tablet mirroring capability (mirror Studio right to your machine), integrated tablet holder, Bluetooth audio speakers, steel frame, 400 lb. user weight limit.
Sole F63 – Budget Friendly Treadmill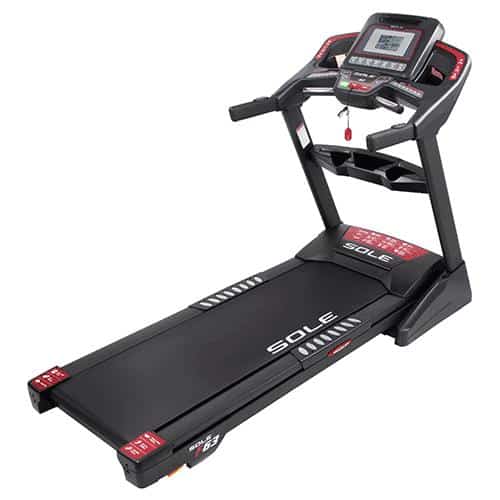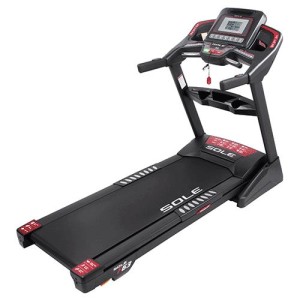 If the F85 treadmill is slightly out of your budget, the more affordable option that we suggest is the F63 treadmill. This machine is typically priced at $999. Although it is a downgrade from the F85, it still has some great features if you're on a more limited budget. Here are the top features of the Sole F63 treadmill:
3.0 Continuous Duty HP Motor – Certainly not the monster motor like the 4.0 on the F85 treadmill, but this motor will be able to withstand walking, jogging, and running workouts.
20" x 60" Treadbelt – The belt on the F63 treadmill does not include the extra 2" in width like the F85, but it is still longer than the average belt length of 55" which is nice.
2.5" Crowned Rollers – These are decent size rollers for the price. They will certainly help in reducing the wear and tear of your treadmill over time. However, it should be noted that these don't provide a super quiet workout. If you live in an upper level apartment, this might not be the right machine (If you like your neighbors, anyways).
Cushioned Deck – Like the F85 treadmill, the F63 comes with their Cushion Flex Whisper Deck technology. This will provide great shock absorption to be gentler on your joints during your workouts.
Easy Assist Folding Deck – Yep – this treadmill folds too!
Other Features – Integrated tablet holder, .5-12MPH speed options, 15 levels of include, LCD screen, USB ports, Bluetooth audio speakers.
*Note: Both the F63 and F85 come with a 30-day free trial to Studio.
Best Studio Ellipticals Options
If you prefer using an elliptical over a treadmill for your workouts, check out our top rated elliptical machines with Studio technology access.
Sole E95S – Best Overall Elliptical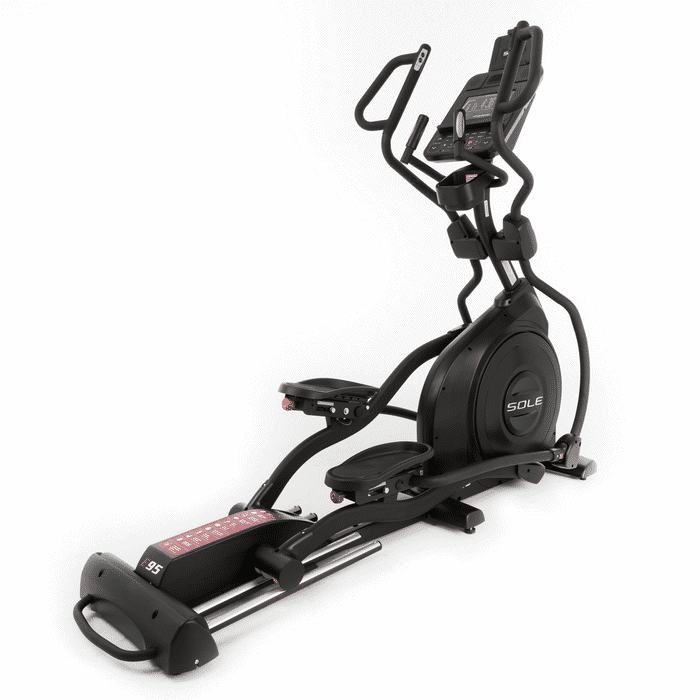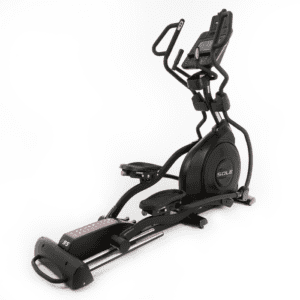 If you're really looking to get the best of the best elliptical out there, look no further than the E95S from Sole. This machine is a beast in the best ways possible. Although this machine is normally priced at the $2,200 range, don't let the price tag startle you. Why? For the features offered, we normally see machines like this priced closer to the $3,500-$4,000 range. It's a steal of a deal. Let's dive in.
30 lb. Flywheel – The heavier the flywheel, the more comfortable and smooth the elliptical motion will be. This flywheel is really heavy-duty and will allow for a fluid feel during your workout.
18-24" Stride Length – This adjustable stride length will allow for users of many heights to have a comfortable stride while exercising. It's a really wide stride range for a residential elliptical.
Adjustable Foot Pedals – The foot pedals were designed by a physical-therapist. The angle of the foot pedals are designed to reduce any joint stress during motion.
Other Features – 10.1" LCD display, USB ports, integrated tablet holder, Bluetooth audio speakers, 400 lb. user weight limit.
Sole E35 – Budget Friendly Elliptical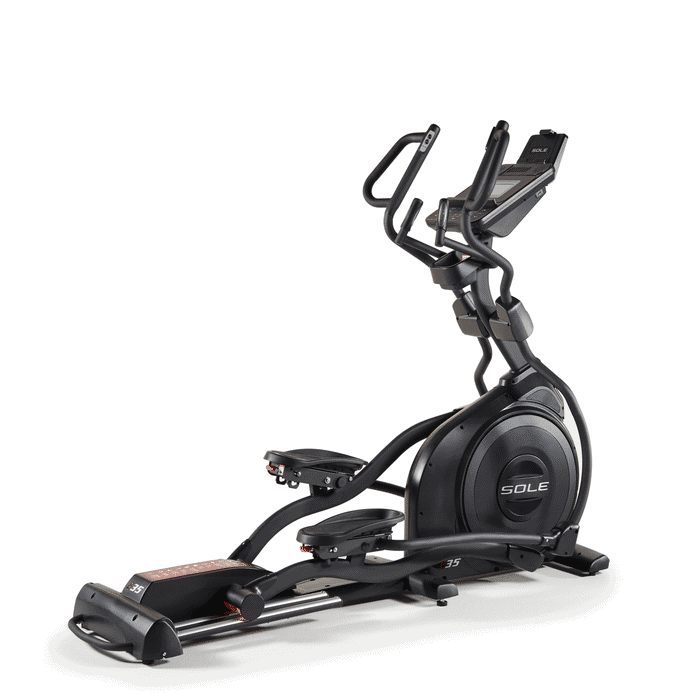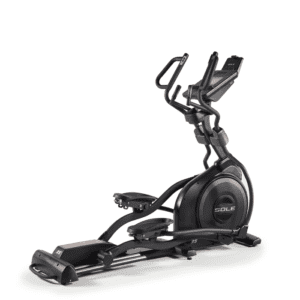 Typically priced around $1,500, the Sole E35 is the best elliptical option on the market for this price point. Our team member Fred personally owned this model for 8+ years and had nothing but praises to sing about it. Here are the best features of this elliptical:
25 lb. Flywheel – Not as heavy-duty as the E95S, but for this price point this is an excellent weight for the flywheel. It will still provide a stable and natural motion while you're exercising.
20-22" Stride Length – The stride doesn't have as much option as the E95S. Most users will still find this more fixed length to be a comfortable motion. However if you are under 5'5" you may want to consider an elliptical with the 18" stride availability.
Adjustable Foot Pedals – Like the E95S, the E35 comes with the physical-therapist designed foot pedals. These are intentionally designed to be adjustable to maximize your comfort level.
Other Features – 7.5" LCD Display, USB ports, integrated tablet holder, Bluetooth audio speakers, 375 lb. user weight limit.
Best Studio Bike Option: Sole R92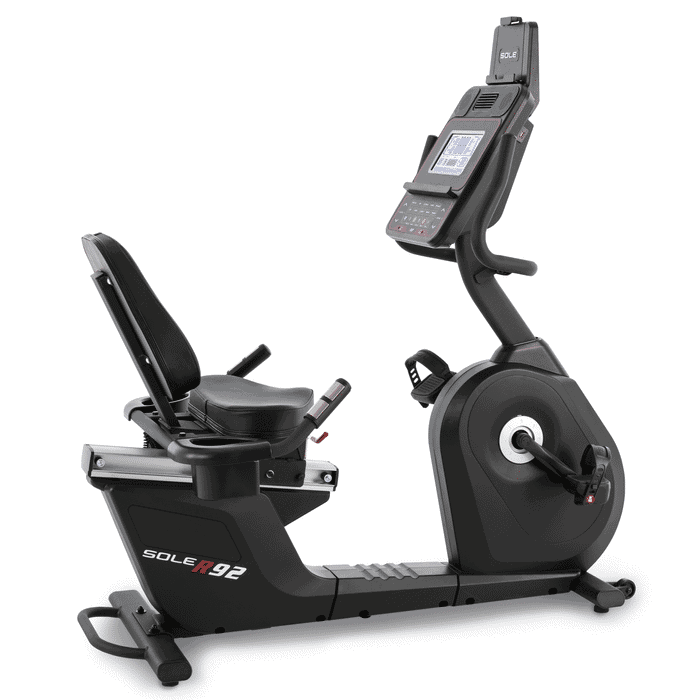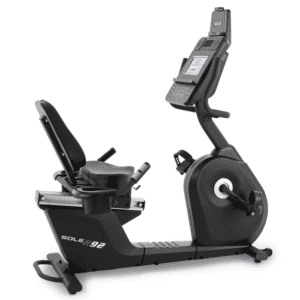 For the recumbent bike category, we feel that the "best overall" and the most "budget-friendly" option fall into one machine. The Sole R92 Recumbent bike offers great features to users at a really attractive price point of $999. The features you'll find on this bike include:
20 Resistance Levels – 20 levels of ECB (electromagnetic resistance system) will allow you to change your workout intensity level easily and quietly.
Posture Support – Recumbent bikes are already a great machine option for those that suffer from any chronic pain issues with their back or joints. This bike offers a 2-degree inward design, that will allow you to maintain proper posture during exercise to minimize pain.
Compact – If space is a concern for you, the compact design of the R92 bike will be ideal. The measurements of this machine are 50" h x 30" w x 57" L.
LCD Display – A bright, easy-to-read 9" LCD display.
Other Features – Wireless chest straps, cooling fans, padded adjustable seat, integrated tablet holder, Bluetooth audio speakers.
Shop the Sole R92 Recumbent Bike! 30 Day Money Back Guarantee and FREE Shipping.
Is Studio Right for Me?
There are some people who are perfectly content with doing their regular old cardio routine with no additional "bells and whistles". If you fall into that category, Studio may not be the right choice for you. For others, using an interactive fitness technology on your cardio equipment of choice will be really beneficial.
Using a fitness program such as Studio can help to increase your motivation, hold you accountable, connect you to a growing community, keep your workouts exciting, help you reach your goals faster, and best of all – boost your overall health and fitness.