Design and Quality that Ranks Up With the Best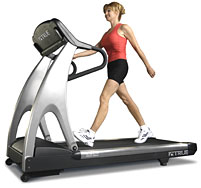 True treadmills are some of the best treadmills in both the residential and commercial markets. The design and the quality of their components rank it at the top with Precor and Landice. Actually True is better known for their commercial treadmills,although their residential models are designed to take a beating.
There is an advantage to a company that build both commercial and residential treadmills. Their commercial treadmills are designed to withstand the extreme abuse of a commercial environment, and so many of the same components are found in their residential models.
However you will find there are several issues with commercial treadmill companies that also sell home models.
Their prices are not as competitive as treadmill companies that strictly sell residential models.
The treadmills are not comparable in specs to brands that only sells for home use. Although the commercial brands that sell home models generally have higher quality components.
Companies like True, Landice and Precor are not as innovative in their features. They lack features like Internet connectivity.
With True it is all about quality and that reputation has built their business for the last 30 years. True virtually spends nothing on marketing. They have been able to grow their business all these years through ratings and reviews. True continually ranks at the top of any significant treadmill review.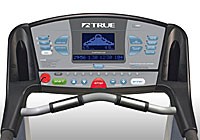 They are also one of the few treadmill companies that still builds their models here in the U.S. Although lately they are building their entry level models overseas.
It will be interesting to see how True survives a market that is constantly getting more competitive. Particularly as more companies shift their manufacturing overseas and are able to sell at a premium value.
Our Review – True Treadmills
It isn't a question whether a True treadmill is a good machine, the real question is it a good value compared to other treadmills. There is no question they are one of the very best running machines. Just check out some of the reviews listed below. However, unless you are going to have multiple users and/or marathon runners, True can often be an overkill.
Consumer Magazine Review
Surprisingly the True PS300, which was the highest ranking True model in a popular consumer magazine only came in sixth. Several of the models that ranked above it were considerably less money. That included the Sole S77.
Other True Treadmill Reviews
Runner's World
True Z5.4 HRC: "Our testers consistently found the Z5.4 to be quiet, soft, stable and smooth underfoot. They also liked the bright display and found the programs easy to navigate. Plus you can adjust the belt's cushioning to one of 12 preset levels with a convenient side lever. (Another nice feature of the belt: it's wider – 22 inches vs. the standard 20). The handrails extend only slightly away from the console, so most runners won't hit them with their arm swing."
Kiplinger's Personal Finance
"Going for quality is crucial. Her first choice is the True 540 HRC because it has a roomy running surface and attached heart rate monitor. The company's machines also have a solid reputation. You can adjust the platform's hardness and modify its preset workouts for speed and elevations."
Customer Review – True 550 HRC
I have had a True for over two years.  It has broken down twice now.  We put about 800 miles per year, so it is definitely light use.  For that price, this thing should not be breaking down at our usage level.
See the True Z5.4 Treadmill review