Smooth Treadmills are All About Durability!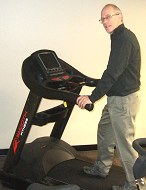 Durability is the most important consideration when buying a treadmill,which is what Smooth Treadmills are all about. In fact, a leading consumer publication gave one Smooth treadmill a "Best Buy" (Smooth 9.35) and another a "Recommended Buy" (Smooth 7.35)
I once visited the Smooth Fitness Corporate headquarters and I met with their upper management. In our discussions they talked about the focus of Smooth, which is to build quality machines at a very competitive prices. Over the years they have been very successful at that value proposition.
---
Note:   Smooth Fitness has three models for sale:  The Smooth Fitness 800, 890, and 13.75 TL.  Since they are part of Icon Fitness, the sales representatives will gladly share information about ProForm or NordicTrack models if you ask.
The 800 has a 3.25 CHP motor and a 22×60″ deck.  It is recommended for walking and light jogging.  If you are looking for a more serious running treadmill, consider the 890 with its 4.25 CHP motor, color touchscreen, and attached TV.  The 13.75 TL has a powerful 5.0 CHP motor and is designed for a commercial setting.  All of the machines have iFit capability.
Honestly, you might as well look at the ProForm and NordicTrack machines.  They have a wider selection and are manufactured by the same parent company.
---
Equally important, Smooth backs up their treadmills with exceptional customer service and extensive warranties. In fact, all Smooth treadmills are covered with an industry leading 2-year labor, and their high-end treadmills have lifetime parts coverage.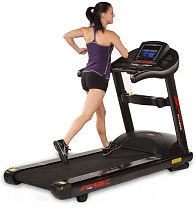 Smooth Fitness was the first to sell quality treadmills online, and since then they have led the pack. Their success recently ranked them as the 11th largest e-retailer in the sporting goods category, according to Internet Retailer's Top 500 Guide.
They only sell direct and online. There are other companies that sell direct, but their prices are inflated in order not to undersell their retail dealers. And although the savings is not anywhere near what Smooth suggests on their site, you do get more for your money.
When you buy from Smooth you are getting a treadmill from the experts on Internet sales, service and fulfillment. That is an important factor when making a costly purchase like a treadmill.
When buying a treadmill, you want to consider the entire package, and not just the lowest price. If you have a problem or issue with your treadmill, you want a company that stands behind their products.
In general, Smooth treadmills have an excellent track record, and this is reflected in their extensive warranties. All their treadmills come with a lifetime warranty on the motor, and two year service. Their entry model, the 5.65 has a 4-year parts, typical at that price you get 1-year parts and labor. The Smooth 7.35 and the Smooth 9.35 comes with a 7 year parts warranty. The longest at that price. Their Smooth 9.65LC and 9.65TV come with lifetime warranties. A treadmill company cannot provide these types of warranties unless their products are durable and low maintenance. Otherwise they would go out of business covering costly repairs.
Smooth treadmills start at $999 and go up to $2,500. All prices include shipping.
You'll find that each model comes with motors, rollers and treadbelts that are more than adequate for their tasks. They use quality components, which result in fewer service calls and reduced noise. I personally owned a Smooth treadmill, and found it very quiet, even when I cranked up the speed and incline.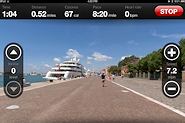 New! – MySmooth Virtual Trainer — I recently got a call from the president of the company, in which he enthusiastically described their new MySmooth app.
One of the biggest drawbacks to exercising on a treadmill is the boredom of running in place. MySmooth allows you to virtually run through landscapes and cityscapes with your treadmill. As the company describes it…
"This fully interactive fitness app takes you through winding roads and beautiful trails with a REAL FEEL technology that adjusts the equipment to the terrain and syncs the video to your workout speed, providing an incredible virtual experience."
Some of the virtual runs include…
Swiss Alps
Chicago Historical Streets
Northern Italy
American Southwest
Zion Angel's Landing
California Central Coast
Crater Lake
You have to have a tablet to utilize this feature, which controls all the functions of your treadmill. Your workout stats and history are downloaded onto your tablet, allowing you to track your progress.
Note: There is a additional cost for the module and the virtual tours. (N/A on 5.65 and 9.65TV)
Smooth Treadmill Reviews
The Smooth Fitness treadmills have received numerous ratings and reviews. Below is a partial list of independent groups and businesses that reviewed Smooth Treadmills.
Runner's World – Ranked as Top Ten Treadmill
Prevention Magazine – Called "Best Bargain"
Epinions.com – Average 4-5 star rating (5 is the highest)
Bizrate.com – Ranked "Positive" in all categories of service and product quality.
ConsumerGuide.com – "Best Buy" rating
About.com – "Top Pick" – budget treadmill and mid-range
ConsumerSearch.com – "Best Treadmills"
Treadmill-Ratings-Reviews.com – "Best Buy" on Smooth 5.65.
Customer Review – True Story
I was making one of my seasonal treks to the big city to check out the latest fitness equipment. I stopped at a Sears, which sells NordicTrack and ProForm treadmills and ellipticals.
While looking over one of the machines a woman comes up to and asks, "Do you want to know about treadmills." At first I thought she worked for Sears, and then I realized she was a customer. I mentioned that I review fitness equipment.
Well, she immediately starts telling me about her treadmill, which is a Smooth 5.45 (Now the Smooth 5.65). She mentioned how it is used by three of her family members on a regular basis, and has endured the abuse. In fact, a couple of the users were jogging on it.
She further explained that after the great experience with the treadmill, she bought a Smooth elliptical trainer, and she as been equally impressed with it.
The point of this story is this woman was so satisfied with her Smooth Fitness Equipment she had become an advocate for the company. Now that is an endorsement.
High Ratings from Prominent Consumer Ratings Magazine
A popular consumer ratings magazine gave the Smooth 7.35 one of their top rankings for a folding treadmill. It received an "Excellent" rating for ergonomics and exercise range. It also got a "Very Good" for construction.
The Smooth 9.35 received a "Best Buy" review, getting an "Excellent" rating for ergonomics, construction and exercise range.
"Best Bargain" Rating from Prevention Magazine
Prevention Magazine, rated several popular treadmills. They called the Smooth 5.0 (Now the Smooth 5.65), "Best Bargain and Control Panel."
Smooth Rates in Runner's World "Top 10 Treadmills"
Runner's World rated the Smooth Treadmill as one of the Top 10 Treadmills! Smooth earned high ratings for stability, which Runner's World considered the most important treadmill attribute.
Our Review of Smooth Treadmill
While I was at the corporate headquarters I talked to Jim Mugford, head of their customer service department. I asked him how they were handling the seasonal surge. He said that service calls were at a minimum and that most calls were in regards to delivery questions. Basically, he said we just don't get allot of service calls since are machine have few service issues. And if this was any indication, while we talked there were no phone calls in the customer service area.
I thought that was the best statement as to the quality of the Smooth treadmills. If you match features to features with other brands you may get a better deal. However, if you are looking for a solid and durable machine, the Smooth treadmills are some of the best values out there.
Built with Quality Components
A treadmill is the sum of the parts that combine to make it an excellent product. Large plastic consoles and 'gee whiz!' gadgets do not necessary reflect value. Check reviews and ratings, in addition to customer comparison sites. Before you buy, make sure you are getting a treadmill that is built to last.
As we previously mentioned, the generous warranties on the Smooth models is a reflection of quality. And although all treadmills have some service issues, Smooth generally has a good service record, and that includes their entry model the Smooth 5.65.
Attentive Customer Service
When you purchase from Smooth Fitness, you are not only buying a quality treadmill, but also an exceptional customer service team. Because of the constant impact that treadmills are subjected to, they occasionally need service. You want to be certain you purchase your treadmill from a company that backs their machines and responds to their customers.
Note: I highly recommend you purchase the inside delivery option for $99, although they sometimes include it during certain promoations. The standard delivery for most treadmill companies is curbside. Take my word for it, you do not want to have to move a Smooth treadmill into the house. They are some of the heaviest, and consequently some of the most stable machines available.
Smooth Treadmill Models & Prices.
(Typical prices)
Smooth 5.65 – $999
Smooth 6.75 – $1,299
Smooth 7.35 – $1,499
Smooth 8.35 – $1,699
Smooth 9.35 – $1,899
Smooth 9.65LC – $1,999
Smooth 9.65TV – $2,299
New: Check out my videos of the Smooth 5.65 and the Smooth 7.35. Taken during my recent visit to the Smooth headquarters.