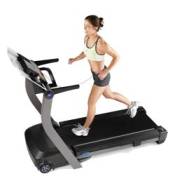 Sold Through Costco!
Reebok treadmills are built by Icon Fitness, which also builds NordicTrack,ProForm, Weslo, Image and Gold's Gym.
All these brands are assembled at the same facility in Logan, UT. In fact, they use many of the same components. The Reebok treadmills are sold through the Costco stores.
---
Note: You may also want to check out the NordicTrack models. They have a better selection, with a variety of innovative features. Also, when on sale, there are some excellent values.
---
Comparing Reebok Treadmills
So which brand offers the best value? It depends! If you are considering buying a Reebok Treadmill you want to consider the following components, and determine if there is a comparable ProForm or NordicTrack model. Then you can compare the prices to get the best deal.
Motor — You want to compare the continuous duty horsepower rating. It will vary from approximately 2.5-3.5 horsepower. You'll find that all of the motors come with a lifetime warranty, which suggests their durability.
Running Surface — Compare the length and width of the running surfaces. Many of ProForm and NordicTrack treadmills come with a 60″ running surface. The extra length is attractive for taller individuals or for runners with longer strides. When writing this review the Reebok V 8.90 was selling for $1,299 with a 20″ x 55″ running surface on the Reebok web site. You could get the NordicTrack C 990 with a 20″ x 60″ surface for $999.
Workout Programs — In addition to the built-in programs, Icon Fitness also offers their iFit technology. There are two versions of this technology. One allows you to purchase cards that you insert into the treadmill. The cards provide progress workouts that control the speed and incline and offer audio coaching. The newest version, iFit Live, allows your treadmill to communicate with the Internet. There are too many features to list here. Click here to learn more about iFit Live.
When considering a Reebok Treadmill, see which installed programs are available, and also check to see if the machine is iFit card, or iFit Live compatible.
Warranties — You want to compare the warranties between the three brands. In the past, Icon Fitness had some of the worse warranty coverage. In the last couple of years their warranties on certain brands are some of the best. You'll find Reebok Treadmills generally come with a 1-year parts and labor warranty (Lifetime on motor). Several of the NordicTrack and ProForm models come with 5-year parts and 2-year labor coverage.
Our Review — Reebok Treadmills
So once again, should you buy a Reebok Treadmill? Having been to the manufacturing facility several times, and in talking to the execs, my perspective is the following. There are some Reebok models sold through Costco and Sport's Authority that can be a real bargain and a good value. However, Icon Fitness invests most of their resources into the NordicTrack and the ProForm brand. If you are looking for the latest technology utilized on the components and the displays, you are not going to find it on the Reebok models.
For example, NordicTrack and ProForm are offering models with full color displays. In fact, a couple of their models have a 10″ display with Android browsing capability. In other words, you can go online when you are working out. These displays are not available on Reebok Treadmills.
Also, several of NordicTrack treadmills are offering the new QuadFlex cushioning, which is an improved technology for shock absorption. Once again this deck is not available on Reebok treadmills.
So if you are willing to settle for model that was released 1-3 years ago, you probably can get some good deals, particularly through Costco.
Customer Review – Reebok Vista
Great Treadmill – The Reebok Vista is a great home treadmill. It folds up to save space. IT has a 7 in tv in it. It can connect to cable or a dvd player. I can watch movies, or Tv when walking or running. It can handle up to 255 pounds and its sturdy. I can run and it doesn't shake. It has a cooling fan, for the serious runner. The long belt is wide enough for my long legs. The sides have places to place a drink or telephone. I am happy with my purchase. IT also comes with a 25 year warranty. The best part is the TV. I enjoy working out now. I may not have a built in dvd player or mp3 option. But Most of us can jog with ipods.