Last Updated on February 18, 2021 by Site Admin
Excellent Mid-Range Treadmills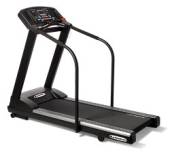 I tested each of the PaceMaster treadmills at my local fitness equipment store. And having put them through the "Paces" it was obvious why PaceMaster has the reputation for outstanding quality. They are an excellent mid-range treadmill that are known for worry free performance.
PaceMaster has been building treadmills since the 60's. Their focus has been building well engineered machines with quality components. And that is apparent when you see all the accolades they have received from numerous publications and expert reviews.
---
Visit our Best Buy Treadmills page for our most recent ratings and reviews of the top brands!
Recently they have gotten more aggressive with their pricing,and consequently have compromised to some degree on the components. But their overall engineering still makes them an excellent low-maintenance value,which I consider one of the most important selling features. Fred at Superior Fitness Systems in Cary, NC reinforced that point by mentioning they get very few service calls on PaceMaster. Also they are one of the few treadmills that are still made in the U.S.A., True treadmills is another brand. (Click here to see all of our latest treadmill reviews and ratings.)
PaceMaster has four resdiential models; Bronze, Silver, Gold and Platinum. They break into two groups based on their surface length. The Bronze and Silver have a 54″ running surface, while the Gold and Platinum have an extended 60″ surface. Each comes with a reasonable warranty that includes a 12 year motor, 5 year parts and 1 year labor.
You'll find PaceMaster treadmills only for sale at fitness specialty stores. That alone says something about the quality. They are not trying to sell through mass merchants.
The one criticism, if it really is a criticism is the Pacemaster treadmills are rather spartan. There are no bells and whistles. The design, and the console layout arevery basic. For PaceMaster the emphasis is all about engineering.
The PaceMaster treadmills are all equipped with a 3.0 continuous duty hp motor. It is a McMillan motor. Each comes with 2.5″ rollers, designed to increase the life of your belt, motor and roller bearings. When I tested the treadmills I found each to run extremely quiet, and they have just the right amount of shock absorption.
Our Review – PaceMaster Treadmills
I've always felt you can't go wrong with a PaceMaster treadmill. For the price you certainly can find models with more features, but you won't find any that are better built. The one note is that they are only sold at fitness specialty stores, where you generally pay a premium. What concerns me about PaceMaster is the number of negative reviews I have come across from customers.
Here are some third-party reviews:
"…defies the notion that you can't buy a good treadmill for less than $2,000. This machine is rattle-free and quiet, with no friction-borne jerkiness – even at its performance limits." – Men's Journal

"Simply an incredible deal." – Triathlete

"Bottom Line: A Best Buy. The PaceMaster Pro-Plus HR offers good construction and lots of features for the money." – Runner's World

"This smooth, powerful treadmill is a terrific value, combining solid quality and program options at an economical price." – Men's Fitness

"Quiet, smooth and more compact than most models." – Women's Fitness
Customer Reviews
"Pacemaster Silver – Just a wonderful machine. Extremely quiet and feels extremely sturdy. I love running on this treadmill. I've had it for over a year now and haven't had a single issue with it. Of course I never use the heart monitor function because I'm just not interested in it. I've heard other people have had problems with that piece of the unit."

---

Pacemaster Gold Elite VR 2008: I actually lost 20 pounds in 2 months using this model BUT from day one it shut down and gave an erroe code NOT in the manual. Now the past week or so, it shut down again middle of workout giving an error code NOT in the manual. I called G and G Fitness and they will send someone out this week. After trying another type of program it once again SHUT DOWN middle of workout showing an error code NOT in the manual.
Very frustrating to spend over $2,000 on a possible POS.

Follow-up

I posted a few weeks ago about the machine shutting down during workouts. Well they came out again and replaced the circuit board and speed sensor thing. Well it turns out it MIGHT be my beer fridge in my garage, when the compressor kicks in, the basement is on one elec. circuit and it pulls just enough elec. from the treadmill causing it to shut off. Safety feature I guess but I still dont think it should do that. IF that is the case, this is a recommended machine. Pricey but it works

---
Not recommended. Very irritating squeak in first treadmill. Same squeak, bushing misfit, and heart rate monitor malfunction in replacement.

---

I have had my Pacemaster gold elite for about 4 months. I have had nothing but problems.

---
I've had my Pacemaster for about 4 months. I've used it 4-5x per week. The product has been excellent.

---
PaceMaster Platinum Pro Review
---
Other treadmills to consider in this price range are Sole Fitness. They have better warranties.
All in all, we haven't had any complaints, and have very much enjoyed using it.