A Proven Track Record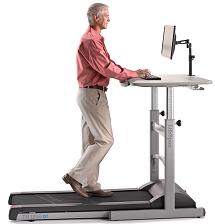 There has been considerable interest in treadmill desks recently.  I personally have been getting a number of inquiries about what options are available for walking on a treadmill while you do your office work.
There are a few good options from well known companies.  NordicTrack has a Treadmill Desk and Treadmill Desk Platinum.  ProForm also had a Thinline Treadmill Desk but it has since been discontinued.
LifeSpan is one company that has been building treadmill desks for years including the LifeSpan TR1200-DT5 Treadmill Desk.  I've been to the LifeSpan headquarters in Utah and talked to the head of their marketing and their CEO.  I liked what they had to say.  The company is focused on the building solid machines that have a very good reputation for durability.  They are nothing fancy, just solid performers.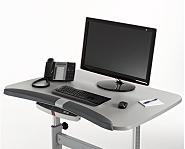 What I like about the LifeSpan TR12000-DT5 is the fact that it is built off their TR1200-i folding treadmill model.  They just removed the console and added a desk with controls for the treadmill.  The TR1200-i has received some "Best Buy" ratings, and in fact, I highly recommend this treadmill to my readers.  So the basic components of the TR12000-DT5 have a proven track record on an existing treadmill. In comparison to the other entries into the treadmill desk market, the TR1200-DT5 is by far the heavy-duty and stable version out there.
For now, we'll highlight the features on the TR 1200 DT5, but be sure to check out a description of the very similar TR1200 DT7 and TR1200 DT3 versions of this machine below.
Features on the LifeSpan TR-1200-DT5 Treadmill Desk
Treadmill Desk Workspace –  Includes a sturdy work surface measuring 38″x29″ OR 48″x29″ for your computer, monitor and phone.  You can easily adjust the height.  There are pads for resting your arms and a pull-out console on the desk let's you control the speed and get read-outs.
20″ x 50″ Walking Area – Unless you are extremely tall, this length is more than adequate.  I found several of the other treadmill desk models had decks that were both too short and not wide enough.
2.25 Continuous Duty Motor – More than sufficient power for walking.
Warranty:  Motor: 3 Years, Parts: 2 Years, Frame: Lifetime, Labor: 1 Year
LifeSpan Fitness Club – You have access to an online account that can track your progress towards your fitness goals. They way it works is you download your stats onto a USB drive and upload that on to your computer.  Tracking your results in one of the best methods to motivate you.
LifeSpan TR-1200-DT5 Review
What makes the LifeSpan TR-1200-DT5  the best choice for a treadmill desk is both the heavy duty construction of the desk and the quality of the treadmill.  If you want a serious treadmill, built to last, the TR-1200-DT5 is the best choice on the market.  Also, the membership in the LifeSpan Fitness Club is a real plus.
LifeSpan TR1200 DT7 and DT3:  Which model is best for you?
One of the nice things about the TR 1200 DT5 is that you can purchase the big brother or little brother to this machine to customize the exact features that you want.  The DT3 will cost you about $999 and consists of just the treadmill surface to slip underneath and existing desk or table.  The DT7 has the same walking surface and desk construction as the DT5.  It will cost you about $200 more than the DT5 and the only difference is that it has electric height adjustment for the desk.

Customer Review
I've now read the reviews from all the happy, gushing, soon-to-be healthy people using this treadmill desk, but, being an engineer, I look past the personal stuff.

I had researched other treadmill desk components and combinations, and the one thing that struck me was how chintzy most were and what they cost. When I ran across this unit and saw the price, I was skeptical, but the shipping weight (as explained below) and the rating of the drive motor alone convinced me to buy and try.

None in my firm can believe that something with this much iron and weldments– never mind the huge desktop – costs only around $1,300 or so. This thing is stable as a rock, the treadmill is very quiet, and I can write, talk and draft (CAD) while cruising at 1.8 – 2 mph. I'm now averaging upwards of 8 miles per day, or 25,000 steps, give or take. I like that the treadmill stops counting steps when I get off.
Amazon TR-1200 Desk Reviews
As of 2/12/15 there were 169 reviews with an average of around 4.5 stars out of 5. Obviously customers are satisfied with their purchase.