New with Some Upgraded Perks!
NordicTrack's focus with their line of Commercial Incline Treadmills was to release machines that combine commercial quality equipment with leading interactive technology, to burn major calories and motivate you to reach your fitness goals. The most recent treadmill to join the series is the NordicTrack x14i Commercial Incline Treadmill. The other machines in this series are the popular NordicTrack x22i and x32i treadmills.
NordicTrack is owned by a parent company known as Icon Fitness. Icon is the largest manufacturer of fitness equipment in the world. Recently, we visited the Icon Fitness Corporate Headquarters in Logan, Utah. Our team had an opportunity to test first hand the Commercial Incline Series of Treadmills from NordicTrack. These machines are no joke – and definitely made some of our team members break out in a sweat!
The NordicTrack Commercial Incline Treadmills are very popular among outdoor hikers, and these machines are typically used for primarily walking. The reason for this is that these machines offer such steep inclines and declines, that will allow you to feel like you are going up and down hills.
NordicTrack X14i Commercial Incline Treadmill Features and Technology
3.75 CHP DurX™ Commercial Plus Motor – This is a really strong motor, and should be able to handle most speeds very well. Built with their SMART-Response Drive System, this motor will remain quiet and self-cooling to allow you to workout even longer.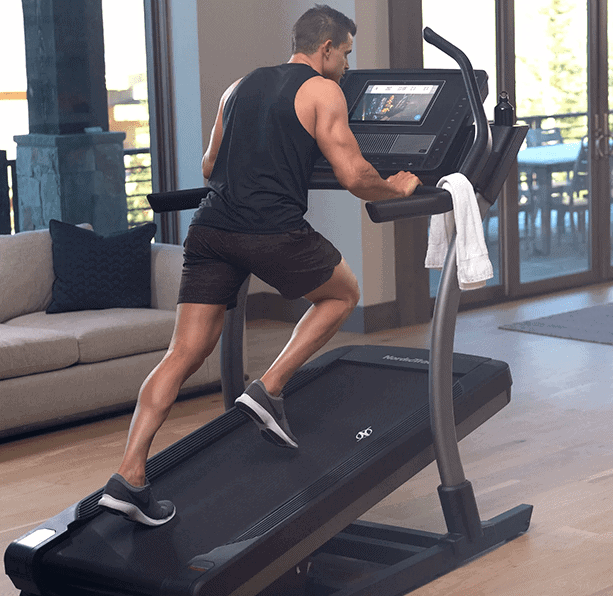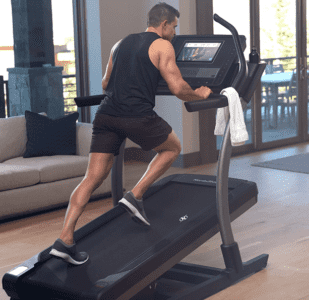 Next-Gen Sled Push – This is a newer feature from NordicTrack. The X14i comes with built in sled grips and a push bar. The premise behind this is to set your treadmill at 1 MPH, and push! This feature gives you another option to tone muscles and burn MAJOR calories.
22″ x 60″ Treadbelt – The standard size treadbelt that we see is 20″ x 55″. Not only are you getting an extra 5″ in length, but the additional 2″ in width will make a big difference. Most users will find this treadbelt very roomy.
Ability to Incline and Decline – The X14i Commercial Incline Treadmill inclines to 40 degrees and declines to -6 degrees, giving you the sensation of hiking up and down mountains. This will allow you to target more muscles groups during your workout.
Upgraded 14″ Interactive HD Touchscreen – The older model of the x14i treadmill had a 10″ touchscreen, which is now upgraded to the 14″. This interactive touch screen will allow you to enjoy all the benefits that NordicTrack's iFit technology has to offer.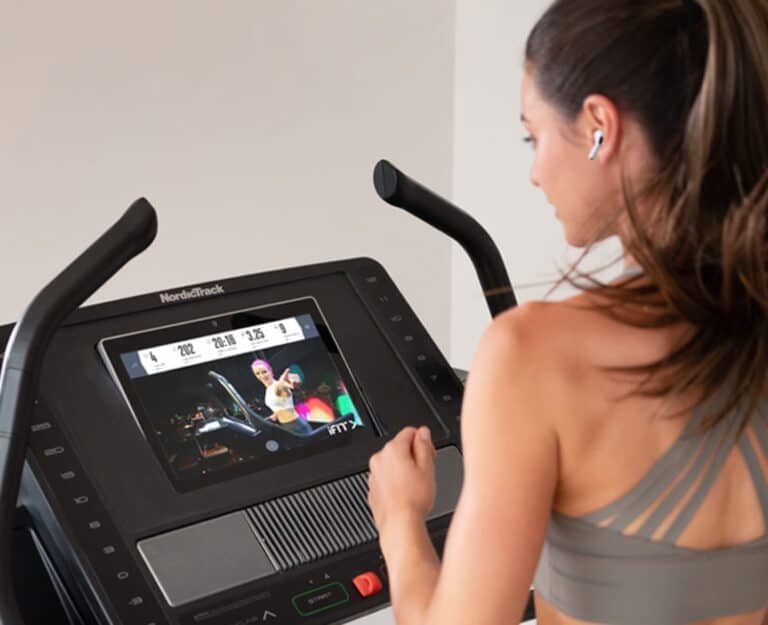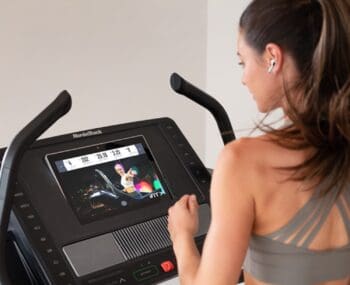 iFit – iFit is another Icon Fitness exclusive, only found on NordicTrack and ProForm machines. This feature allows you to get interactive training to help you reach your fitness goals. At the time of this review, the X14i comes with a 1-year iFit family membership included in the price. If you decide after your free year trial you want to continue the service, it is a $39/month fee. When using iFit, you can take advantage of perks like…
Create Custom Workout Routines – Work with your trainer to create routines focused on your specific fitness goals and choose from 17,000+ On-Demand Workouts. These workouts cover several weeks, are progressive, and include audio coaching. Your stats are uploaded to your iFit account where you can track your progress.
Use Live Interactive Training – Your personal iFit trainer will control your speed and incline so you can get top-knotch results. New workouts are available every single day.
Exercise Anywhere on Google Maps – The NordicTrack x14i will simulate the terrain you choose with the incline and decline feature. Then, watch your progress on Google Maps!
NEW: iFit Mobile App – Download the new iFit mobile app on your phone or tablet and access the perks of your iFit account from anywhere.
Warranty – The warranty on the X14i is pretty standard with what we see from NordicTrack, 10-year frame, 2-year parts, 1-year labor.
Other Features – Two 3" Digitally-Amplified Speakers, NEW Bluetooth Headphone Connectivity, 2.5" Precision and Balanced Non-Flex Rollers, Dual AutoBreeze™ Workout Fans, Reflex™ Cushioning.
Note: This machine has a 300 lb. user weight limit and a 70" L x 39" W x 72.5" H Footprint.
Our Review – NordicTrack Commercial x14i Incline Treadmill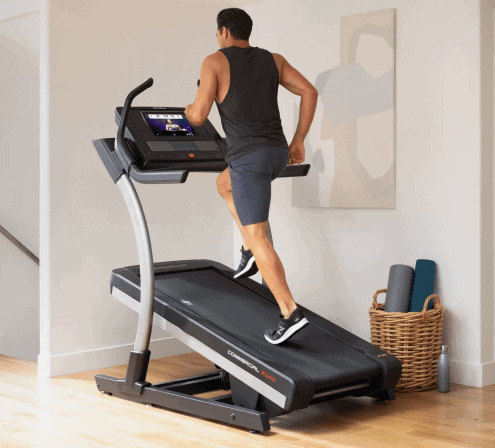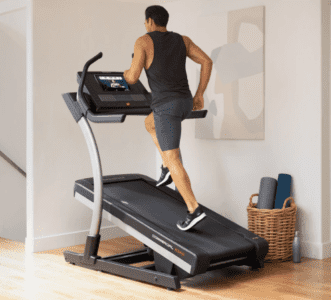 When we tested the Commmercial Incline Treadmill Series in Utah, we were extremely impressed. These machines are built very solid, and have innovative features. The Next Gen Sled Push and Incline/Decline options on these machines really step up their game to give users more variety while using their treadmill.
The treadmills in the Commercial Incline series range anywhere from $2,300-almost $4,000. The Commercial x14i is the "entry level" Commercial Incline Trainer, but we feel it is a great option for most people. It is a heavy-duty machine with impressive specs that most people will be happy with. However, if you are looking for a bigger screen or a stronger motor, you may be interested in upgrading to the the NordicTrack x22i or the NordicTrack x32i.
See a comparison chart with all of the NordicTrack Incline Trainer models here.
---
Video of our experts testing the NordicTrack x11i Commercial Incline Trainer at corporate headquarters. The x11i has since been discontinued and replaced with the x14i, but they are very similar machines.