ProForm Premier 700 Treadmill Review
| | |
| --- | --- |
| Brand: | ProForm |
| Expert Rating: | |
The ProForm Premier 700 Treadmill is ON SALE!
Has This Machine Kept Up with Technology Advances?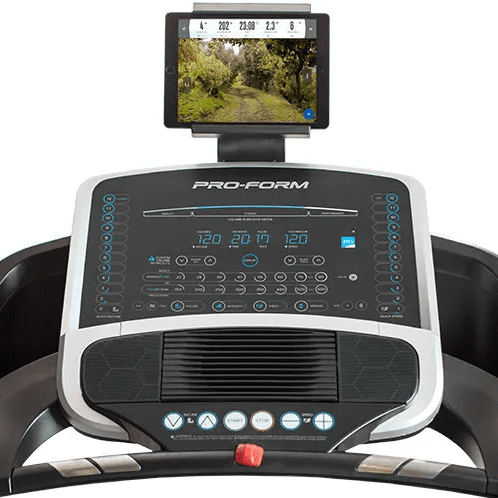 There is no denying that what we consider to be "standard features" on a treadmill has changed a bit over the last few years. Leaps and bounds in affordable technology have changed the game. You may have noticed that many of the Proform treadmill models are now SMART, this includes the Performance, Pro and Power series. Touchscreen displays and interactive training options have become the norm and there's a reason we expect those features.
But what about those that have not received those SMART upgrades? This is where we find the Premier 700. Created by Proform to be a quality, mid-level treadmill, there's no doubt that the Premier 700 delivers a quality workout. But has it been stranded in a sea of growing technology and price changes?
Keep reading to see what the Premier 700 has to offer and decide for yourself
ProForm Premier 700 Treadmill Features
2.75 CHP Mach Z Commercial Motor – This is a motor that is going to allow you to do any of the workouts that you could reasonably expect to do on a treadmill. It may not be the most powerful of the Proform lineup, but it certainly provides enough power to keep you moving and building your strength and endurance.
20" x 60" Tread Belt – The Premier 700 offers a roomy tread belt so you will never have to feel cramped, or like you need to shorten your stride. The 60" length is great for taller runners or anyone with a longer than average stride.
ProShox Cushioning – Not only will the size of the tread belt make you more comfortable, the cushioning will too. You can find ProShox Cushioning on all Proform treadmills and it will help protect your joints from additional strain and injury while you work out.
12 MPH Top Speed – This is a nice upgrade from the Premier 500 model, which features a top speed of 10 MPH. Those additional two miles allow you to really push yourself when doing speed training and HIIT workouts.
0-12% Incline – Just like the extra speed, the extra 2% incline on the Premier 700 can come in very handy if you really enjoy pushing yourself. Amp up your HIIT workouts and interval training at the push of a button.
24 On-Board Workouts – This is one department in which the Premier 700 doesn't quite match up with others in this category. With the majority of Proform models sporting closer to 50 available programs, the Premier 700's 24 may leave you looking for a little more. This may just be an example of more being the new norm, but it might make you wonder what you aren't getting.
iFit Coach Bluetooth Enabled – Speaking of wondering what you might not be experiencing, the Premier Series is the only series that doesn't offer a free 1-year trial of iFit. There are a lot of exciting workout options available through iFit, from customized workouts with personal trainers to Google Maps routes from around the globe. However, with the Premier 700 if you want to test it out it's going to cost you from day one.
Multi-Window LED Display – This may be surprisingly to anyone shopping for a treadmill in the $1300 range…there's no HD Touchscreen. In a land where having a screen on your at-home treadmill is pretty standard, this is where the Premier 700 falls behind the rest of the pack. You can still keep track of your speed, time, calories, mileage and heart rate throughout your workout on the LED display, so you aren't completely in the dark.
Since this is the case, it is also worth noting that if you decide to sign up for iFit, you will need to provide your own tablet or device to do so. You'll be able to snap it into the integrated tablet holder, but it definitely gives you something to think about when doing that comparison shopping.
SpaceSaver Design with EasyLift Assist – If you live in a smaller space, or just don't like your workout equipment being on display at all times, the folding capability of the Premier 700 is a definite bonus. The design makes it easy to fold your treadmill and store it away to keep tiny fingers safe and free up space.
325 lb. Weight Capacity – A 325 lb. user capacity is higher than you'll find on many models and this is an added bonus. Preform says this is to keep "the whole family in mind" and that's a really nice sentiment. The additional weight capacity means that everyone in your house has the ability to better their fitness.
1.9" Balanced Rollers – These are slightly larger rollers that you will find on an entry-level machine. Larger rollers mean more use with less wear & tear on your machine over time. This also means less maintenance for you, so you can just focus on what your treadmill can do for you, not what you need to do for your treadmill.
Additional Comfort Features – We have come to expect a certain level of ease of use from a Proform machine, and the Premier 700 lives up to those expectations. You can keep cool with the CoolAire Workout Fan and keep an eye on your heart rate with the EKG Grip Pulse sensors. You can also listen to your favorite tunes using the Audio Auxiliary Port.
ProForm Premier 700 – Our Review
If you've read the above items, you know that the Premier 700 is going to deliver quality craftsmanship, performance and comfort. The question is can you get these same things, and more, for less than the $1299 it requires you to shell out? The answer…yes.
Proform has upgraded many of their machines in the last year or two and the Premier 700 seems to have been left in the dust in some regards. If you like the features on the Premier 700, but really want the HD Touchscreen and think iFit sounds kind of cool, check out the Proform Performance 800i. This is going to be very similar, with some great additions and will cost you $1099.
If you don't care as much about the touchscreen but would like to see what iFit is all about, the Proform Power Series offers more powerful motors and that 1-year iFit trial subscription. You won't have to sacrifice any of the performance features and you can save up to $200.
There is absolutely nothing wrong with the Premier 700 treadmill. We just have to admit that when shopping for your at-home fitness equipment, getting the most for your dollar is very important. The Premier 700 may not be where you'll get the most bang for your buck.
Check out a comparison chart of all ProForm treadmills here.
Go to www.proform.com/treadmills to learn more.