ProForm CoachLink T9.0 Treadmill Review
| | |
| --- | --- |
| Brand: | ProForm |
| Expert Rating: | |
The ProForm CoachLink T9.0 Treadmill is ON SALE!
A Machine Left in the Dust?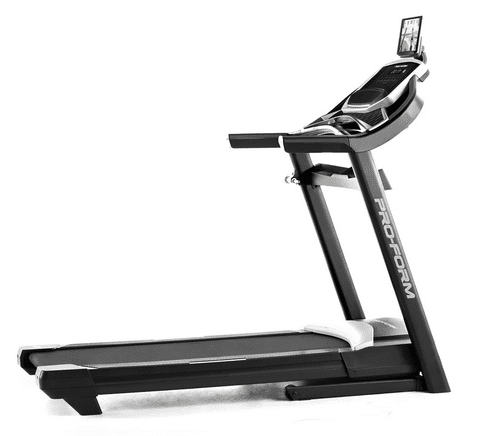 When it comes to treadmills, we normally talk about how a particular machine fits in with the others in a series. This is not the case with the Proform CoachLink T9.0. This is a stand-alone machine that still provides all of the performance and quality that we've come to expect from a ProForm treadmill.
The CoachLink T9.0, as you may have noticed, has not received one of the SMART upgrades that many of the ProForm machines have gotten in the last year. This means you won't be seeing all of the bells and whistles that come on many of the newer machines.
That being said, when it comes to performance features and quality construction, it has no problem keeping up with the pack.
ProForm CoachLink T9.0 Treadmill Features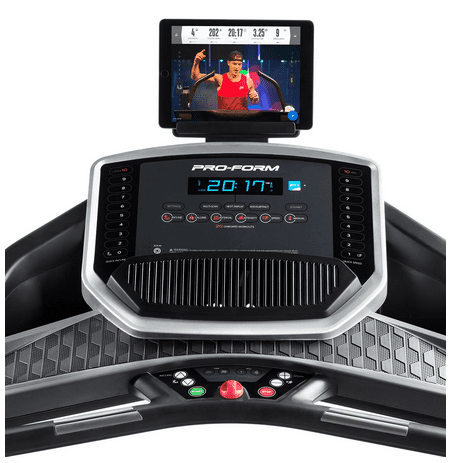 5" High Contrast Display – Since we mentioned the difference in the bells and whistles department, let's just talk about the display right up front. This machine features a 5" high-contrast display that allows you to track your time, speed or incline during your workout. This is not a full color touchscreen or an HD display capable of video. By comparison, this is going to be a bare bones display. However, if you don't care about the fancy screen, the CoachLink T9.0 provides what you need.
iFit Coach Bluetooth Smart Enabled – This is the second area where we hear fewer bells. With the SMART ProForm machines you receive a free 1-year subscription to iFit to test out all of the interactive training features.
With the CoachLink T9.0 you can still try all that iFit has to offer, but you'll need to purchase the subscription and use your own tablet to do so. The CoachLink T9.0 does feature a tablet holder so if you choose to go that route, your tablet will be secure and right where you need it to be.
20 On-Board Workouts – Just because the CoachLink T9.0 doesn't come with an iFit subscription doesn't mean you have to tackle your fitness journey blind. With 20 on-board workout options, there's something for everyone right at your fingertips.
Whether you like speed drills, interval training, or hills, there's a workout for you. Plus, with 20 options, you can rotate and keep your workouts feeling fresh and fun every day.
2.6 CHP Mach Z Commercial Motor – This is where we see the performance features start to shine. At 2.6 CHP, this motor is going to be able to give you a run for your money. Yes, there are more powerful motors out there, but the question is "what do you want to do?"
If you're wanting to walk, jog or run, then you're really all set. And honestly, what else do you do on a treadmill. If you're wanting to put in a ton of miles on a daily basis then you may want to look for something a little more powerful. But for most people, the CoachLink T9.0 will be able to keep up.
18" x 55" Tread Belt – Just like we were saying with the motor, this is going to do the trick for most all of us. There are ProForm models that sport a larger belt and if you are tall or have a long stride, it may be worth it to check out a model that has a little extra space.
0-10% Incline – This is on the lower end of the spectrum when it comes to incline. We are seeing 12% starting to become the norm. However, unless you are a professional, 2% difference isn't going to make a huge difference. You will be able to do hill runs and interval training to really challenge yourself and get a great workout.
0-10 MPH Speed – The speed range on the CoachLink T9.0 follows the same story as the incline. We are seeing 12 MPH as the top speed on many machines, but unless you're doing crazy sprint drills you will be able to get by just fine at 10 MPH. It's really more a matter of what are you going to be doing, and how much you need your machine to be able to do.
ProShox Cushioning – This is a feature that we see on all Proform machines that is really great for your comfort and health. The deck of the CoachLink T9.0 provides different levels of cushion at different locations.
The front of the deck provides additional cushion to help reduce wear and tear on your joints when your foot lands. The rear of the deck is a firmer surface, which allows you to better push off and maintain a more natural forward stride.
Folding Capability – When it comes to in-home fitness equipment, the ability to fold it up and stash it away is great. This means your treadmill doesn't have to be the focal point of your living room and take up valuable floor space. Plus, if you have children in your home you can store your treadmill and help keep those tiny fingers safe.
Our Review of the ProForm CoachLink T9.0
All in all, the ProForm CoachLink T9.0 provides the performance features and quality we would expect to find from any of their machines. It just boils down to why should you buy this one instead of one of the others?
The answer is…maybe you shouldn't. With a price tag of $1299, the CoachLink T9.0 almost prices itself out of the competition. For the same price, you can get the ProForm SMART Power 1295i which boasts a 3.5 CHP motor, 20" x 60" tread bell and top speed and incline of 12 MPH/12%. For $200 less, you can get the SMART Power 995i with a 3.0 CHP motor, 20" x 60" tread belt and those 12 MPH speeds and 12% incline. They also both come with the 1-year free trial to iFit.
The CoachLink T9.0 is an excellent machine, there's no doubt about that. And it will most certainly help you reach all of your fitness goals. It just seems to be getting left eating the dust of the rest of the Proform line-up.
Check out a comparison chart of all ProForm treadmills here.
Go to www.proform.com/treadmills to learn more.