Extra Wide 22″ for Elite Treadmill Workouts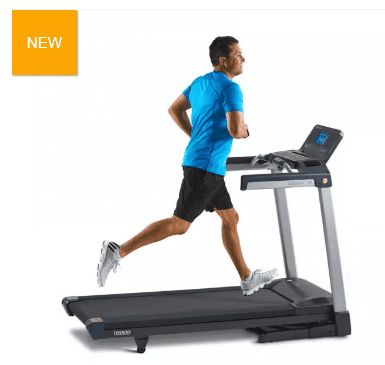 We'd put the quality  of Lifespan treadmills in the same league as top brands like Sole and Yowza.  They are durable machines that come highly recommended from several prominent resources.
This particular model, the LifeSpan TR5500i has a large 60×22″ deck, anti-vibration technology and an EZ fold design.  It has many features that would appeal to a regular treadmill user.
LifeSpan Fitness TR5500i Top Features
22" x 60" Running Space — The length of this machine will work well for all types of runners.  We especially like the 22″ wide belt.  You will really enjoy the extra elbow room.
4.0 HP Continuous Duty Motor — This is a powerful motor that will easily be able to handle regular running workouts.
Anti-Vibration and EZ Fold Design – The Lifespan TR5500i separates the running surface from the console supports so your running steps will not cause the display to vibrate.  In addition, this design contributes to an easy folding mechanism that lets you clean around the machine more easily and store it when it's not in use.
2.5" Rollers — Larger rollers like this will decrease noise and prevent excessive wear on your belt.
Forgiving Shock Absorption — Just like the LifeSpan TR4000i, this machine has four compression shocks on each side of the deck for extra cushioning.  It will provide a natural feel and protection for your joints while you run.
Warranty — Lifetime Frame, Lifetime Motor, 5 years Parts, and 2 years Labor.
Our Review – LifeSpan Fitness TR5500i
We're a big fan of the shock absorption on this LifeSpan 5500i model.  The 8 variable density compression shocks will help provide a comfortable running surface.  Plus, we respect the strong reputation from this company.  LifeSpan machines are built to last and well worth the price.
If you're looking for another brand to finalize your decision, we recommend you check out the comparable Sole F80.  This is another excellent machine and is frequently on our Best Buy list.