A Great Price for a Smartly Designed Machine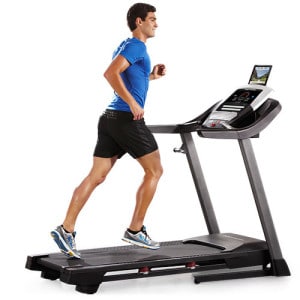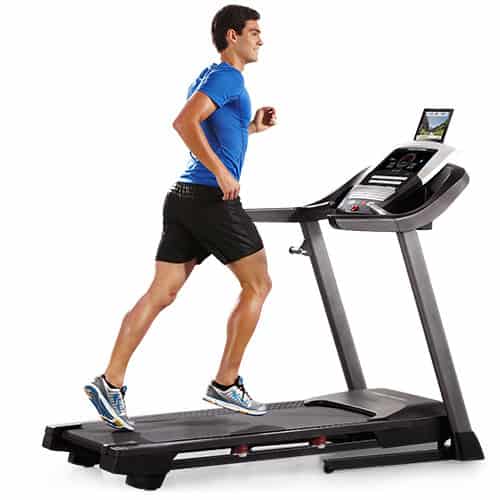 The ProForm Sport series includes five models of varying specs and prices.  The ProForm Sport 5.0 is the lowest model with some smartly designed features at a budget friendly price.  For around $599, you will get an iFit Bluetooth Smart Enabled machine with a 2.5 CHP motor, 20×55″ running surface, and a round watts LED display.
This treadmill comes from parent company Icon Fitness, who are also the makers of NordicTrack machines.  What we like about these brands is their ability to offer high spec machines at a lower price.  With the Sport 5.0 model, this advantage shows itself mainly in the iFit Live technology.  Budget treadmills from other companies do not always offer as many high tech and interactive features.  Still, this is a lower spec model for ProForm, so you may find the motor size and deck length confining.  Be sure to check out the other machines in the Sport series for more options.
ProForm Sport 5.0 Treadmill Features
20″x 55″ Treadbelt — This is a fine length for a treadmill in this price range, but taller individuals may prefer a 60″ deck.  Consider the Sport 7.0 or Sport 7.5 models especially if  you plan to use this machine for more than walking.
SpaceSaver Design- This treadmill folds up for easier storage and cleaning.  It's a handy feature to have and the EasyLift feature helps you avoid injury while lifting the deck.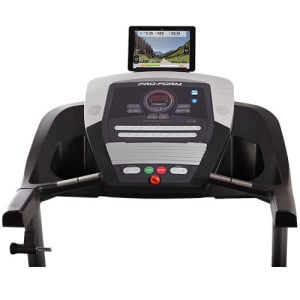 Round Watts LED Display and Tablet Holder – This unique display lets you watch your power output right on the console in front of you.  It rates your output as "Endurance," "Tempo," or "Peak" so you can know how hard to push.  A tablet holder is present so you have a safe place to put your tablet during your workout.  Enjoy your favorite blog or Netflix episodes while you exercise!
iFit Bluetooth Smart Enabled – This technology allows you to download or create your own running route using Google Maps.  The incline on the Sport 5.0 will adjust automatically to sync with the real-life terrain.  This is a great feature if you have a favorite outdoor route that is inaccessible due to weather or time constraints.  The Bluetooth feature allows your treadmill to communicate easily with your smart devices without the need for a wifi connection.  You can customize your training with unlimited workouts designed by certified personal trainers like Jillian Michaels.  Track your progress with your online account.  The iFit Live technology is one of our favorite benefits of the ProForm and NordicTrack machines.  Be aware that it does involve an additional subscription cost.
2.5 Continuous Duty HP Motor — This motor will work well for walking or some light jogging, but more serious runners should consider something with a bit more oomph.
Compatible Music Port for iPod — It's pretty nice to just plug in your iPod and have your favorite tunes come out through the treadmill speakers!  The sound system isn't home entertainment quality, but it gets the job done nicely.
20 Workout Programs — Just press "start" and you can be on your way to a great workout.  These programs help add interest to running in place.
Warranty — The Sport 5.0 comes with a lifetime frame, 25 year motor, 1 year parts and labor.
ProForm Sport 5.0 Recommendation
The ProForm Sport 5.0 is rated to accommodate users up to 300 lbs so those who approach or exceed this weight may want to consider a machine with a bit more power.  You have plenty of options. There are several other models within the ProForm Sport series or in one of ProForm's other lines.  We like the Sport 5.0 if you are looking for a basic machine at a great price.  It will give you a reliable walking or light jogging workout.  The iFit Live technology and 55″ length will work well for many users.  Again, if you are taller than 6 ft, you should definitely look towards a model that comes with a longer deck.
Go to www.proform.com/treadmills to learn more.