Get a Great Uphill Workout With 12% Incline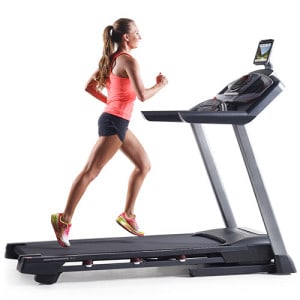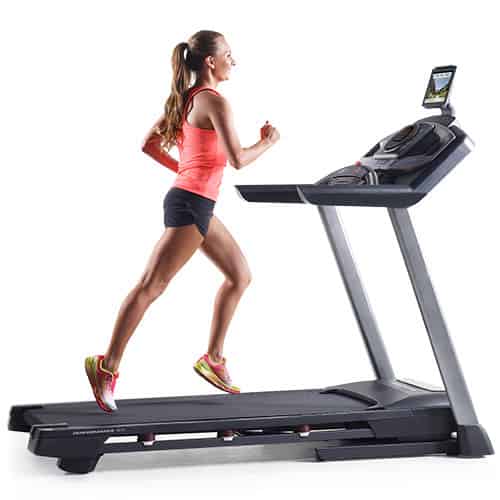 The ProForm Performance 600i is one of the very best values at $799. This machine is ideal for taller users who will benefit from the longer deck and stronger motor. In addition, this machine sports a butt-busting 12% and is iFit Coach Ready.  The Performance 600i is best for runners who want to get in a decent workout without spending a ton of money.  If you are a serious runner prepping for your next big race, you'll be better off looking outside the budget treadmill category to get a machine to keep up with your training.
We've talked a great deal about the major benefits of the iFit technology.  Quite simply, it is an awesome comprehensive system that lets you track your workout progress, create interest in your daily routine, and use Google Maps to run real routes through your town or across the globe.  ProForm is part if Icon Fitness, which is the monster company that also produces NordicTrack.  Since they are the largest creator of fitness equipment in the world, they are often able to create machines with more specs for a lower price than the competition.
Check out the Differences Between the Performance 600i and SMART Performance 600i
They did it again! ProForm has released a newer version of their machine with some upgraded features, some downgraded features and a new price tag.  Here's the low-down on this new "SMART" model.
Good things about the SMART Performance 600i:
Comes with 1-year FREE iFit Membership
Upgraded electronics and "DeVice Grip" Design for tablet holder
More workout programs in machine
10″ SMART HD Touchscreen (that's cool!)
Bad things about the SMART Performance 600i:
Smaller 2.5 CHP motor
Smaller 18×55″ running belt (super disappointing)
Lower 0-10MPH Quickspeed controls
Smaller 1.6″ rollers
Only a 25 year motor warranty (vs lifetime on the older model)
High Price tag (at the time of this posting)
So is it worth it?  At this point, we'd say "no."  Go with the much lower priced regular Performance 600i.  Eventually, that model will sell out and the SMART Performance 600i may seem more appealing.
ProForm Performance 600i Features
iFit Coach Ready- Just "Press Start" and you can begin your workout staged in a fun location like Paris or Barcelona.  This system lets you run real routes with Google Maps where you machine will be synced to the actual terrain.  Workouts created by professional trainers will add interest and effectiveness to your daily grind.  The only downside is that iFit requires a monthly subscription to access.
Integrated Tablet Holder –  This may seem like a small thing, but it is quite handy.  We liked that this tablet holder securely holds your tablet at a level convenient for you to watch while you workout.
2.75 CHP Motor – This motor will easily handle walkers and joggers.  Remember that if you are excessively heavy or planning to do some serious race training, you will be better off with a more substantial machine outside this pricing category.
20×60″ Treadbelt – People who are 6'0″ and up should definitely get a machine that is at least 60″ in length.  You will find that most of the quality treadmills (the ones we recommend) are either 55″, 60″, or a handful at 62″.  Don't even consider one that is shorter than 55″ or you'll feel cramped while working out.
SpaceSaver Folding – This machine folds up to save on space in your home.  It has an EasyLift feature that helps you lift without straining your back. Handy if you're tight on space.
0-12% Quick Incline – I HATE punching a ton of buttons during my workout just to adjust the incline and speed.  This machine has easy buttons that allow the user to make the changes without breaking stride.  It also has 0-12 MPH quick select buttons for speed.
22 Workout Apps – This adds interest to your workout with programs designed by trainers.  It's a nice selection!
ProShox Cushioning – A treadmill with proper cushioning is extremely important to provide a comfortable run and protect your joints.  This machine has cushioning throughout the deck to do just that!  We thought is was pretty comfy to run on too!
EKG Heart Rate Monitor – This is handy so you can adjust the intensity of your workout to meet your optimum heart rate zone.
Round Watts LED Display – This is an unusual but useful feature on a treadmill console.  The power output from your workout is displayed on this screen so you can see your effort in numeric form.  It tells you if you're in the Endurance, Tempo, or Peak zone of training.
Workout Fan – Of all the features, this is one that users most often ask for!  But you can calm down, the Performance 600i has a decent fan to keep you cool.
iPod Compatible – This machine has a built in sound system.  As with all ProForm machines, the sound is not home theater quality, but it gets the job done.  Some speakers on treadmills are downright embarrassing.  This is well above that level.
Warranty – Lifetime Frame and Motor, 2 year Parts, 1 year Labor.  This is a better warranty than the lower Performance Sport and Performance 400i models.
ProForm Performance 600i Treadmill Review
The ProForm Performance 600i is a great budget machine for moderate users.  It has some nifty features like the iFit technology, quick select buttons for speed and incline, folding design, and an easy to use console.  This particular model is a nice step up for users who are
taller (you'll need the 60″ length) and has a 2.75 CHP motor that can handle moderate training.  If you are planning to do more than moderate training, or if you are excessively overweight, then you should consider a machine outside of the "budget" category.
The products from all Icon Fitness companies, including ProForm and NordicTrack, are able to offer more specs at a lower price.  The ProForm Performance 600i is a great example at around $800 depending on the current pricing.  It is a good value!
If you're interested in another option, you can spend $200 more for the ProForm Power 995i.  You will be getting a larger 3.0 CHP motor, larger 2.5″ rollers, a higher 15% incline, and a stronger 3 year parts warranty.
Check out a comparison chart with all ProForm treadmills here.
Go to www.proform.com/treadmills to learn more!