A VERY Compact Treadmill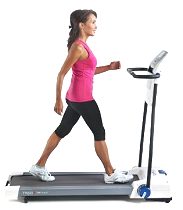 Every once in awhile I get an email asking for a recommendation on a very compact treadmill.  They are usually apartment or condo dwellers who have limited space to exercise and store the equipment. Until recently the Horizon Evolve SG was the only serious option.  However, I was never too impressed with this model.  It lacked an incline feature and it had virtually no shock absorption.  It does fold to a slim 10″.
Although slightly more expensive, the LifeSpan Fitness TR200 Fold-N-Stor Compact Treadmill seems to be one of the better build compact treadmills. LifeSpan Fitness has a reputation for building quality machines at a reasonable price.
The TR200 is their entry level treadmill, and it is an ideal choice for people with limited space. However, with any compact treadmill you have certain limitations.
For example, it is a walking machine, this treadmill is not designed to take the abuse that comes from running. In addition, the size of the belt and motor, and the construction of the deck, limit it to users who are not excessively overweight or tall.
LifeSpan Fitness TR200 Treadmill Features…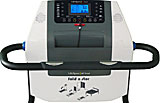 1.5 Continuous Duty HP Motor — Most budget treadmills usually have a minimum 2.0 HP motor.  Although by industry standards the 1.5 HP motor on the TR200 is small, it is sufficient for walkers.  I was on the machine and the motor appeared to be adequate for that purpose.  It also was fairly quiet, and did not appear to be straining.
Adjustable Incline — One of the major complaints about the Horizon Evolve is it does not have the ability to adjust the incline.  You're stuck at level.  Being able to incline a treadmill not only gives you a more intense cardio workout, but also lets you target different lower body muscle.  The LifeSpan TR200 has a power incline control.
Speakers and Input Plug-In — The sound will underwhelm you, but it is convenient having the speakers rather than using headphones.
Fully Assembled — One of the favorite features with customers is the fact you take the treadmill out of the box, raise the console and you are ready to exercise.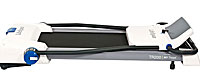 Compact Design — When you drop the console the LifeSpan TR200 measures only 13'5″ in height.
17″ x  48″ Treadbelt — A comparably priced standard treadmill would have a belt that is around 20″ x 54″.  Consequently you are sacrificing the width and length of the belt for the compact design.  Another reason this is a walking treadmill. It should be noted that the shock absorption is an improvement over the Horizon Evolve.
Our Review – LifeSpan Fitness TR200 Fold-N-Stor Compact Treadmill
If you are in the market for a compact treadmill, the LifeSpan TR200 is probably the best  model available.  It just seems like it is built sturdier and is more durable than the competition.  In fact, one of my readers contacted me and asked what was the best choice for a compact treadmill in this price range. Guess what my answer was?
---
Update:  Definitely check out the Yowza Lido and Osprey compact treadmills.
---
Just remember this is a walking treadmill. I would max the user weight at around 220 lbs., and the user height at around 5'11" depending on your stride length.
LifeSpan Fitenss TR 200 Customer Reviews
There were 84 customer reviews at Amazon.com. They averaged around 4 out of 5 stars, which is good for a treadmill in this price range.  They were impressed with the quality of the TR200.  In addition, several commented on how quiet it was and how it was pre-assembled.
Read about this model on Amazon.com.