Comparing the Bowflex TC100 and the TC200
At initial glance, the Bowflex Treadclimber may look like a treadmill. Then, upon closer inspection, you'll see not one, but TWO treadbelts at its base.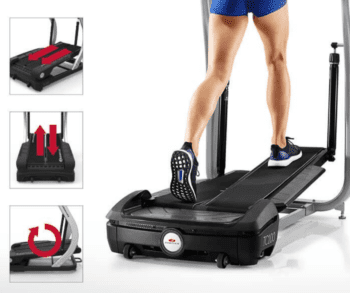 This may sound a bit crazy, but you don't need to be a Cirque de Soleil acrobat to take advantage of its multiple moving parts.
The Bowflex Treadclimber was designed to be a hybrid machine, combining the benefits of a treadmill, stair stepper and elliptical all in one. According to Bowflex, this allows users to get a low impact workout that is more effective than any one of those machines on their own.
Each of the treadbelts — which Bowflex calls "treadles" — move up and down independently from one another. So as you step forward, the treadles come up to meet your foot, relieving the impact of your foot striking the deck.
In terms of efficiency, Bowflex claims the Treadclimber is 4 TIMES more effective at burning calories than a standard treadmill. That's significant… especially when it's done by simply walking!
We should note that this comparison was made by walking at 3 mph on a treadmill at zero incline. However, if you are looking to increase your health by walking, those are still enticing numbers.
If this sounds like something that may be a fit for you, the next step is shopping for your new machine. Bowflex offers two models of the Treadclimber, the TC100 and the TC200. While the basic design is the same, there are some similarities and differences between the two.
Similarities
Max Weight Capacity – Each model of the Treadclimber features a max weight capacity of 300lb. This allows for most users to take advantage of the results that can be found using the Treadclimber. This walking machine is perfect for larger users who are just starting out and don't want to be overwhelmed.
Backlit Display – Both the TC100 and the TC200 feature a backlit display that allows you to track your workout in real time.
This isn't going to be a fancy HD Touchscreen that we see on many treadmills these days, but it does offer some useful information. You can track your speed, distance, calories and time throughout the duration of your workout.
Comfort Features – The display may not be the most innovative on the market, but that doesn't mean the Treadclimber models don't provide comfort features you have come to expect from in-home fitness equipment.
While using the built-in media shelf/tablet holder to enjoy your favorite Netflix binge, you can take advantage of USB charging outlets. This way, you never lose power halfway through an episode. And you can stay hydrated at all times with the handy water bottle holder.
Differences
Max Speed – There is a slight difference in the max speed between the two models. The TC100 tops out at 4mph and the TC200 reaches top speed at 4.5mph.
This isn't a huge difference in speed, depending on how quickly you want to be walking. If you are using the Treadclimber as a starting point for jogging or running, you may want the additional .5mph speed to build your cardio.
However, that .5mph difference isn't going to change the effectiveness of the machine, it will still provide results even at shared speeds.
Heart Rate Monitoring – The TC100 offers hand grips for monitoring your heart rate, while the TC200 gives the option of both hand grips and a wireless chest strap. There are some benefits to the wireless heart rate monitor if that is something that you are going to be keeping track of regularly.
When you walk, part of your natural gait is the movement of your arms. The momentum created by that movement helps keep your body aligned and moving forward. When you have to hold onto the contact grips to get your heart rate it changes your stride.
Multiple Users – If there are multiple people in your home that are going to be using the machine, you may want the ability to store multiple user's information. The TC200 lets you store up to four users on the machine so everyone can keep track of their favorite workouts and stats.
The TC100 does not store user data, you just hop and start moving.
Bluetooth Sharing Capability – The TC200 comes with a free Treadclimber app and Bluetooth capability to share your workout with your favorite devices. The app automatically shares your data with MyFitnessPal, Apple Health Kit and Google Fit.
The TC100 does not come with the Treadclimber app or Bluetooth capability. However if you aren't worried about your phone having your workout stats on it, then you won't be missing out on anything.
How to Decide Which Model Is Right For You
If you are looking for a calorie-burning, low-impact workout that delivers results just from walking, both models are going to fit the bill. When it comes to which model you want to use every day, much of your decision may end up in the "bells and whistles" category.
The TC200 does weigh nearly 50 pounds more when assembled, so if you are concerned about the stability of the machine during use, you probably want to go with the upgraded version. This could be something to keep in mind if you live in an apartment or shared living space, increased machine stability often acts as a way to reduce noise.
We already talked about the wireless heart rate monitoring vs. just the contact grips. This is only going to make a difference if you are wanting to monitor your heart rate for significant amounts of your workout.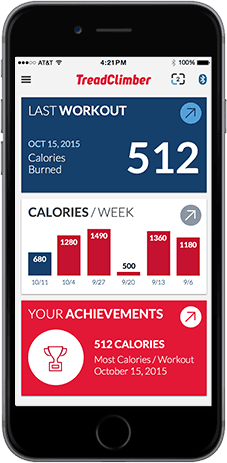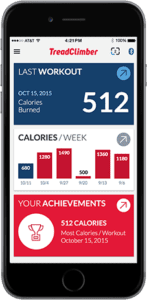 The biggest difference that may affect your decision is the Bluetooth capability and the Treadclimber app. They are great if you enjoy tracking your stats and seeing your progress. This can act as powerful motivation. If you need that extra push to keep yourself going, the upgraded machine could really be worth it for you.
You can compare both machines by reading our reviews of both the TC100 and the TC200 for more information.